In the immortal words (to a golf fan, anyway) of Roberto de Vicenzo, "What a stupid I am to be wrong here!" In my case, the 'stupid' doesn't apply to anything nearly as monumental as losing one of golf's major championships by signing an incorrect scorecard. Instead, my 'stupid' relates to hard drives, and the mistakes one can make when working with them. What follows is nothing more than a tale of woe to hopefully impress on all of us, myself included most definitely, of the need to look that one last time before we take the leap.
Read more…
A couple weeks back, I noticed that my personal data drive was quite full—only 10GB left on a 500GB drive. So I ordered a replacement drive from NewEgg—a Western Digital Caviar Green 1TB model. As my Mac Pro has all four drive bays full, replacing a drive is a bit tricky. First I shut down the machine, open it up, remove one of the non-system drives, and install the new drive in the empty slot.
Then I close everything up, boot up, and run Disk Utility to format the new drive. Once that's done, I copy the contents of the full drive to the new empty drive, and shut down again.
Then I reverse the process, pulling out the full drive, and inserting the other data drive that I originally removed. (Yes, I know I could greatly simplify things with an external 3.5-inch FireWire case; I just haven't gotten around to getting one yet!) I've done this a few times since getting the Mac Pro, and it's worked great every time…until the other night.
When I launched Disk Utility, I saw the Western Digital 1TB drive in the pane at left, as expected. So I selected it, clicked on the Partition tab, and started the format operation. A minute or so later, Disk Utility was done, so I started my copy—this drive has nothing but visible data files on it, so I just used the Finder to copy its contents to the newly-emptied drive. Given there was 500GB of data to copy, the process was going to take a couple hours, so I went off to work in another room on another Mac.
When I returned to the machine, the copy was done…and it was only then that I noticed my new internal drive had, quite oddly, a FireWire icon instead of the typical bare internal drive icon. As Monk might say, here's what happened…
When I selected the 1TB Western Digital drive to format in Disk Utility, what I actually selected was my external Time Machine drive—it's a 1TB MyBook Studio Edition, made by (you guessed it) Western Digital. So in my haste to format the new drive, my eye saw the "931.5 GB WD" in Disk Utility, convinced my brain that that was the proper drive, and my brain then instructed my fingers to format that drive.
Whoops. I had just, in one simple operation, erased about 600GB of Time Machine archives. Because I'm paranoid at backups, however, my data was never in any danger—I have multiple copies of the files on the data drive in various locations. However, what I did lose was the ability to go back in time to a prior version of any of my files, and that version history had some value.
It also meant that I waited two hours for data to copy to the wrong drive. So once I formatted the proper drive, I had another two-hour wait in front of me to copy the data to the proper drive, along with a huge Time Machine backup operation to be done.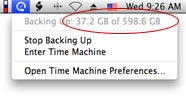 As I write this, Time Machine has been running for about three hours, and it's managed to back up about 37GB of the 598GB total that it needs to back up. I think this task may well be running all day, and much of the night. Formatting one's Time Machine volume not only causes you to lose a lot of valuable data, you'll also spend quite a bit of time waiting for that data to be recreated!
Oh well, I live and learn…and write (and get laughed at?) so that, hopefully, none of you make the same silly mistake I did.