CCP Games, developers of EVE Online, the massively multiplayer online game available for Mac OS X, Windows and Linux operating system, appears to be developing a new capability that should change an aspect of the game that has been a problem for some players: The inability to queue skills for training.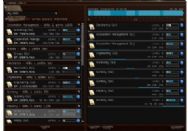 Many online games utilize an experience-based skill increase system — the more you play, the more experience your character gets, and the higher his or her skills get accordingly. This leads to the activity known as "grinding," in which players will play online for hours, often engaging in repetitive, boring quests and missions, just to "level up" their character.
EVE Online avoids this problem all together by employing a very different system — character skills are updated in real-time, whether you play or not. You acquire a skill like a commodity by buying it in a marketplace, then your character "learns" the skill even if you're not online. Higher-level skills and more sophisticated capabilities — advanced weapons systems, for example, or the operation of large, sophisticated spaceships — require more time to learn, often needing days or weeks to complete.
There are some predictable detriments to this setup. Low-level skills only take a few hours to learn, which means players have to return to the game constantly to reset their skill training. Depending on the time of day, your character's skill training may complete when you're asleep or at work or otherwise indisposed, and you end up losing several hours of training time.
EVE Online game designer CCP Eris Discordia, posting in her developer's blog, notes the change in a recent post entitled " More Queue Queue."
CCP wanted to balance the ability for layers to queue multiple skills for training, but didn't want to provide an open-ended way for players to queue skills indefinitely. "EVE is a social game and we want you exposed to other players so you can start making legends out of you or corporation and strive for domination. A long abstinence from EVE would ruin this for us," wrote Discordia.
Discordia explained that the idea of skill queueing has been advocated by the Council for Stellar Management (CSM) — a group of elected EVE Online players who interact with CCP Games to discuss the continuing evolution of the online universe and other issues that affect the player experience. "The CSM was happy to hear we were developing a skill queue," said Discordia.
The compromise was to develop a system that lets players queue skills that will start training within the next 24 hours. A screenshot of an early version of the queue shows a timeline that indicates how much time within that 24 hour period you can fill with skills to train.
Discordia did not disclose when this change will eventually make it in to EVE Online. EVE's developers have been known to disclose changes to the game far in advance of their actual realization in a shipping release.
"We are hard at work completing the skill queue and we have left room to develop the way you manage skills further. For example we could add a planning system and maybe even connect skill plans to certificates or modules. We´d appreciate any feedback you have on the skill queue and other ways to help you manage your skills," wrote Discordia.