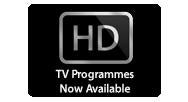 While we here in the U.S. have been basking in the glow of iTunes's high-definition television content since last September, the handful of other countries with iTunes TV programming have been stuck with standard definition in the meantime.
The United Kingdom, however, has now started to snag HD television programmes (it sounds so erudite, doesn't it?). So far, though, the higher quality shows have been limited to American programming such as Lost and Grey's Anatomy. According to CNET UK, however, that situation is due to change in the near future as the BBC begins to release its own shows in HD format, a move that they'll be making with their own iPlayer streaming player as well.
There's no news for U.S.-based anglophilic television watchers, though, so those who've been downloading Doctor Who and Torchwood from the iTunes Store in the States may be stuck in squintyvision, er, standard definition for the time being.