Aqua Eagle describes Absolute Fitness as a "fitness diary," which paints a very accurate picture of what the iPhone and iPod touch app delivers. With an extensive database of food types and nutritional items along with a large variety of exercise types and styles, Absolute Fitness will allow you to track you nutritional intake and exercise levels on a day-to-day basis.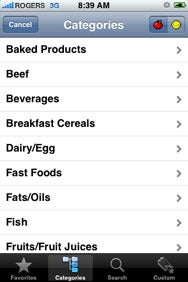 While not the easiest application to get around in, Absolute Fitness certainly delivers value in terms of what it can do to assist you in understanding your eating habits and exercise patterns. The food listings include a comprehensive array of standard day-to-day fare as well as esoteric food items such as Agutuk (an Alaskan dish made with Fish, Berries and Seal Oil) and walrus meat. Suspiciously missing are simple items such as my daily Hazelnut Latte from the local coffee house. Luckily, Absolute Fitness allows for custom food and exercise database entries.
For repetitive meal eaters, Absolute Fitness delivers the ability to tag food items as favorites as well as group individual food items into custom meals for easier entry and calculation. Exercise listings are equally diverse and include standard activities such as aerobics, jogging, and darts as well as more unique activities including polo, snowmobiling, and jai alai.
Reporting on your diet and fitness progress features a variety of visual aids for analyzing daily, weekly, monthly, and yearly progress. You can export data via HTML or CSV formats for further analysis as well.
While a bit on the expensive side, Absolute Fitness is well worth its weight if it contributes to a healthier you.
Absolute Fitness is compatible with any iPhone or iPod touch running the iPhone 2.x software update.
[Kyle Bailey is "Da Big Cheeze" at E-Cubed Media Synthesis, an experience design firm in Vancouver, British Columbia.]