It never fails that those moments when you wonder about the status of your bank account never seem to occur within easy reach of an ATM. Thankfully, there's Mint.com, one of several personal finance trackers vying for your attention in the App store.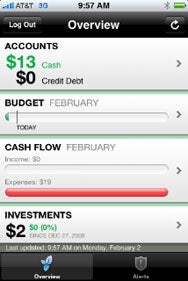 Mint's iPhone version is an extension of the Mint.com Web site, so you'll need a Mint.com account to get started. It's a free service, with features robust enough to challenge traditional competitors like Quicken or that old Excel file you've been adding to since 1998.
On the iPhone, the Mint opening screen presents you with an instant overview of your registered accounts, your monthly budget, cash flow and investments. All of these are initially set up on the Web site; the iPhone app simply tracks them for you. Clicking on any of these overviews gives you more details on where your money is going or has gone, even breaking data down by individual expenses. Mint will also alert you when you have gone over your budget or when you have reached a pre-set dollar amount.
The app's user interface is friendly, simple, and attractive. Always nice to look at something pretty while watching your investments slip away, right?
Mint's functionality is limited, however; don't expect to be able to add transactions on the fly or adjust your budget when you find yourself spending too much. I have found that the information provided is not always current, and sometimes it's downright slow. This can be a problem in an app designed to keep your finances straight.
Mint looks good and is easy to use and set up. It's a fine option for keeping track of your finances on a casual basis, but for the most reliable and up-to-date information, you are probably better off relying on your personal bank Web site.
Mint.com is compatible with any iPhone or iPod touch running the iPhone 2.2. software update.
[ Jeff Phillips is an educator, podcaster, father, blogger, husband, photographer and general technology pundit. He has also been known to give the occasional Feng Shui consultation.]