Thanks to the proliferation of affordable and easy-to-use online printing services, business cards are popping up outside the office, freed from the confines of the 9-to-5 workday. Freelancers and job hunters use them stand out in a crowded employment market, and networkers and social butterflies hand them out to anyone from close friends to potential dates.
Online printing sites let you create cards that are fun or informational, personal or professional, elegant or eccentric. And they let you print in very small quantities. But searching the Internet for the right business-card printing service can be frustrating and confusing. Here's how to cull some of the most-promising ones.
Learn the Lingo
Before trying to sort out which printing service is right for you, familiarize yourself with some industry lingo. The quality of your cards will vary greatly depending on the type of paper used. A rule of thumb: the thicker or stiffer the paper, the better. There are multiple ways of determining the sturdiness of card stock, but most printing services stick to pounds, points, or g/sm (grams per square meter). Unfortunately, since no one method is used by every printer, comparing paper quality can be tricky.
As a general guideline, your business card should be at least as thick as an index card. The desired card stock is between 60 and 100 pounds. (A pound corresponds to 500 sheets of uncut stock.) The rough equivalent in points, which is based on the paper's thickness, is 14 to 18 points. In Europe, card stock is mostly measured in g/sm. For business cards, you want paper between 200 and 400 g/sm (get a detailed comparison of paper measurements).
If math doesn't appeal to you, try a more hands-on approach. Most printers will send you samples upon request so you can compare for yourself.
Think Outside the Rectangle
The standard business card is 3.5 by 2 inches, but if you're in a creative field or looking for a personal calling card, a unique shape, size, and texture can help reflect your personality and set you apart from the crowd.
One of the most popular sites offering unusual business card options is hip printer Moo.com. Moo is cleverly integrated with sites like Flickr and is easy and fun to use. Moo prints standard business cards, postcards, greeting cards, and sticker books, but its signature product is the MiniCard—a 1-by-2.75-inch calling card that can also be a canvas for your digital photos or other artwork. You can upload up to 100 different images or have Moo pull them directly from your Bebo, Etsy, Facebook, Flickr, Fotolog, Livejournal, or Vox account.
If you don't have existing images you want to use, start digging through Moo's library of free designs from established artists. Drag as many images as you like to the drop box section at the bottom of your browser window. Once you have a good selection, click on Make MiniCards to preview and edit your final product.
Editing in Moo is intuitive, and limited just enough to keep amateur artists from going overboard. If you find the font and placement options confining, you can bypass them by uploading a custom file. MiniCards are $20 for 100; standard cards are $70 for 200. The paper stock is a sturdy 350 g/sm and all cards have a matte laminate surface, which is the most flattering for photographs.
Another source for offbeat cards is Premiumcards.net. Have you dreamed of having a calling card that can double as a coaster? Premiumcards has a great selection of nontraditional business cards. In addition to round and square coasters, you can select from playing cards, bifold cards, magnetic cards, sticker cards, and numerous variations on the rectangle. All premium cards require a minimum order of 1,000 and prices start at $55.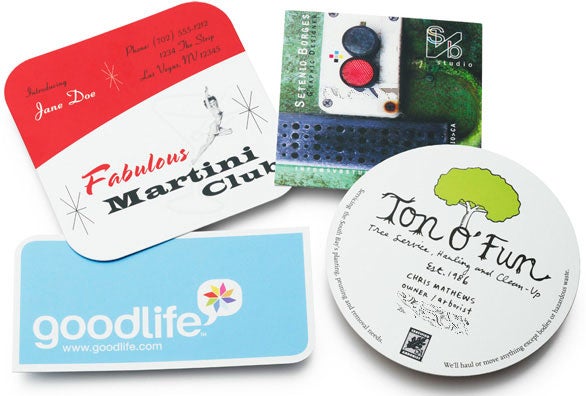 Unlike Moo, Premiumcards doesn't offer interactive online design templates; you must upload your own files. The site does have downloadable Adobe Illustrator and Photoshop templates with text, cut, and bleed boundaries to guide you. If you don't have the proper software or skills, you can pay $30 for design assistance. Give the company's in-house designers your text, images, and instructions, and they'll create a customized layout and send you a proof via e-mail.
Stick to a Budget
Non-standard cards can be pricy, and if you need them for freelancing or job hunting, spending the extra money on a fancy design isn't the best use of your resources. Thankfully, another side effect of digital printing is the glut of deep-discount printers. While many of these shops churn out poorly printed cards on flimsy paper, there are exceptions.
At first glance, Overnightprints.com looks like any other bargain printer site, but its interactive, online design feature is top-notch and the products it makes are surprisingly good. It offers the standard 3.5-by-2-inch card printed on a quality 15-point stock, as well as a host of other printable options such as greeting cards, brochures, and envelopes. You pay a very reasonable $30 for 250 cards.
The online card-printing fad was actually kicked-off a few years ago by VistaPrint.com and its free business card incentive, which you can still take advantage of. For the cost of shipping ($8 for a 14-day turnaround) you get adequate one-sided cards printed on 80-lb. paper with a matte finish. The caveat is that you have to choose from 42 generic templates, and each card will have a small VistaPrint logo and tagline printed on the back. Be warned: after your first order, you'll be e-mailed by the company relentlessly.
Bizcard.com has a similar free deal, but it offers a greater selection of templates than VistaPrint and its logo will not appear anywhere on your card. While the quality of the bargain printers is discernibly inferior to more expensive printers, it's hard to beat the cost and simple order process.
Make the Right Impression
In many professional circles, the quality and feel of a card says more than the information printed on it. A heavier stock, textured paper, or simple text-only design can send a subtle message that bright prints and kitschy shapes can't.
If you're looking for superior color prints on thick stock, Modernpostcard.com sells 250 cards for $69. This is the same price as Moo's standard cards, but you'll get slightly higher quality. Modernpostcard doesn't have online design capabilities, but you'll get traditional hands-on customer service like personal quality checks while your product is printing.
If full color isn't your style or doesn't appropriately reflect your industry, make an elegant statement with a classic one- or two-color calling card printed on luxurious stock. The gold standard for paper, Crane & Co., offers custom business card printing online at Crane.com. For a price (around $200 for 100 cards), you can have your mark and contact information hand-engraved, thermographed in metallic ink, or letterpressed on 100-lb. all-cotton paper. Crane's paper is made from recovered cotton fibers leftover from the textile manufacturing process.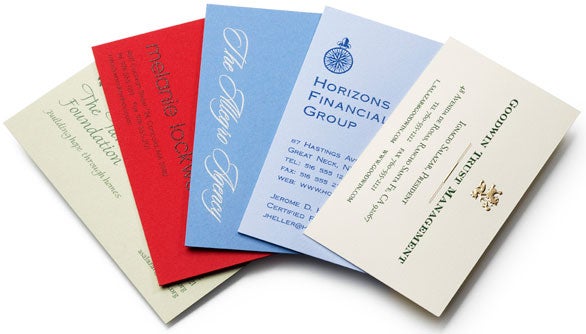 Another subtle way to make a statement with your business card is to go green. Based in Berkeley, Greenerprinter.com is a certified Green Business company. It prints with soy- and vegetable-based inks on a 16-point, 100 percent recycled, 50 percent post-consumer waste card stock. Two-sided full color cards start at $75 for 500. Greenerprinter even buys carbon-offset credits to compensate for the emissions created during shipping. To make sure all your do-gooder efforts aren't lost on the card's recipients, you have the option of adding a recycled symbol to your card.
All business cards make a statement. Choose a unique online printer to ensure your card reflects you. For some more tips, see Business Card Design 101."
Associate Editor Heather Kelly is quite fond of her Macworld business cards.