Electronic Arts (EA) has announced plans to release The Sims 3 for multiple platforms this summer. A release date has also been set: June 2, 2009.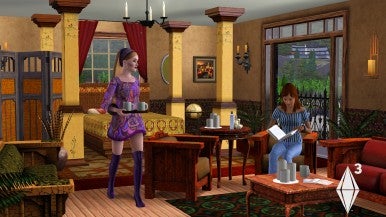 The latest iteration of EA and Maxis' hugely popular simulated life game, The Sims 3 lets you customize and create a virtual person, or Sim. You help them go about their life as they make friends, follow career paths, acquire wealth, get a home, decorate it and all the other things a real person is likely to do.
New to The Sims 3 is the ability to choose up to five traits to create individual personalities. New design tools have been developed that let you extensively customize the appearance of your Sims, affecting their shape and size, facial features, skin tone, hair color and style, eye shape and color, clothing and accessories.
A new "seamless" neighborhood environment has been created that lets your Sims roam to neighbor's homes and explore their surroundings, stroll downtown to hang out with friends, go to the park and more. Inside their homes, you can more extensively customize the Sims' environment, changing colors and patterns of decor, floor coverings, wall coverings, shirts, sofas, window shades and more.
The game also features goal-oriented gameplay that has you trying to reach short- or long-term objectives you want your Sim to pursue. You can create and edit your own movies as you capture gameplay moments, and an online community will be introduced that will enable you to show off your Sims, get bonus content and more.
The release date seems to contradict earlier reports from EA published in mid-2008 that the Sims 3 would be out in February, 2009. But this is also the first specific indication the public has received that The Sims 3 will be available for the Mac and iPhone.
Interestingly, this is the first The Sims announcement from EA not connected to long-time Mac development partner Aspyr Media. Since 2007, EA has published titles for the Mac itself, relying on TransGaming's Cider technology to bring forth Mac versions of its games for Intel-based Mac systems. Last year's release of Spore, the virtual life game from Sims creator Will Wright, marked the first time EA released Mac and PC versions of a game on the same day and date, and in the same package.