SSH is one of the most important tools to a system administrators. The network protocol gives sys admins remote access to their servers. Having that kind of access—to a web server, say—allows them to restart problematic services, make quick changes, of fix a bug.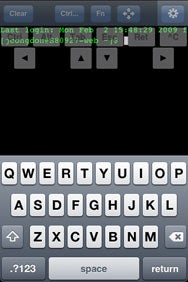 That's the promise behind TouchTerm, an SSH terminal client application available for the iPhone and iPod touch. Jbrink.net's free application has some great features that provide remote access from your mobile device.
TouchTerm opens with a connections page where you can have pre-configured connections. This makes connecting to a machine much faster, especially if you are always accessing the same machines.
The application works in both portrait and landscape view. You have access to some of the common keyboard buttons (Ctrl, Alt, Tab, Esc, Ctrl-C, and arrow keys, for example) through semitransparent buttons at the top. You can bring up or hide the keyboard by tapping anywhere on the screen.
TouchTerm has a few shortcomings, the most obvious of which is that it takes time to maneuver around. Typing is always a little tricky on an iPhone, so don't expect to get on a server and do anything quickly.
Jbrink.net also offers a $15 version called TouchTerm Pro aimed at power users who want streamlined command-line processing, but I've found the free TouchTerm to be a fine choice if you need something to fix a server. It's very handy when you are not sitting at a computer and need a quick fix.
TouchTerm is compatible with any iPhone or iPod touch running the iPhone 2.x software update.
[John Congdon is the CTO of bowlingball.com, co-host of TalkBowling.com, and a part-time blogger.]