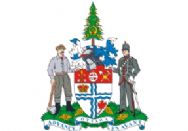 While Paris may be in Cupertino's sights for a new retail location, there are other locations that seem to be getting Apple stores in 2009, reports AppleInsider.
Macity, an Italian-language Mac news site, has a screenshot of a job offer from a Milan store, which seems to indicate that an opening is imminent within the coming months.
Also, ifoAppleStore indicates that stores are coming to Ottawa's Rideau Centre, just blocks away from the Canadian Parliament. This can be verified by searching for jobs on Apple Canada's job page. This marks the first Apple store in Canada's capital—and if its city seal (pictured) is any indication of what Ottawaians wear, this might just be the silliest Apple Store yet.
Apple spelled out its 2009 retail plans a few week back when announcing its quarterly earnings. Chief financial officer Peter Oppenheimer said the company plans to open 25 stores during its 2009 fiscal year, with half of those openings slated for outside the U.S. Apple ended the 2008 calendar year with 251 stores in 10 countries.
Read more…
Finally, Apple is going back up against neighborhood boards in Washington, D.C. after three previous failed attempts.
Reports The Washington Post: "Today, Apple returns for a fourth round with the Old Georgetown Board, as the panel is known, this time with a drawing that is virtually identical to the first. The encounter is so fraught with uncertainty that Mayor Adrian M. Fenty's office has offered to give the computer company advice on how to handle the board and asked to see its latest rendering before the meeting."
If you attend any of the openings for these stores, do let us know.