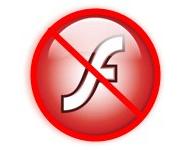 Look, it's no business of the Macalope's what you have to tell yourself to get through the dark of night. But, please, don't make the rest of us suffer. OK?
This week's edition: execs from Adobe and Microsoft tell us their cherished myths and fantasies, and Kreskin predicts!
Flash in the pan
This week, once again, hopes for Flash on the iPhone were raised (not surprisingly by Adobe) and dashed again—all in less than a day.
But whose hopes are we talking about here? Well, pretty much just Adobe's.
Maybe the Macalope's out in left field quietly munching the turf and ignoring the fly balls dropping all around him (when do pitchers and catchers report again?), but he doesn't hear a lot of clamor for Flash on the iPhone. Cut and paste, sure, but Flash? Just where are these huddled masses yearning to slowly load games that there are ready replacements for on the App Store or bloated, over-designed web pages?
Thanks, Adobe, but no thanks.
Read more…
The Vista revolution
For years scientists have wondered "Is Steve Ballmer completely insane or just dangerously delusional?" Well, now they have another data point to examine as Ballmer declared that the people will rise up and demand Vista! (Maybe these are the same people who want Flash on the iPhone.)
For these reasons and others, Ballmer warns, enterprises that stick with Windows XP too long they will hear about it from impatient users who have been using newer computers running Vista and Windows 7 at home.
What exactly will they hear? "OH, DEAR GOD, PLEASE STAY ON XP!"?
See, there's spin and then there's spin. And then there's the kind of spin Linda Blair did.
And then, about five miles down Crazy Avenue and around the bend to Loonyville, there's the kind of spin Ballmer's doing here.
You can't fault a guy for trying and, really, what's he going to say? "I admit it! We're already basically writing Vista off and looking for ways to spread the development costs out over the next 12,000 years!"? That doesn't make for a good message.
The Macalope's not going to get into InfoWorld's ham-fisted attempt to claim that Ballmer's beautiful mind syndrome is somehow akin to what Steve Jobs does. It's not to say that both Steves don't spin, it's just that only one of them has pea soup coming out of his mouth. And it ain't Jobs.
Apple DOOOOOMED! (Actual doom not included)
Speaking of horror movies, market research firm ChangeWave is pimping a real beauty that's frighteningly titled Recession Takes a Bite out of Apple Sales.
Cue the Psycho music.
Upon further reading, however, it seems that what ChangeWave meant to say is that the recession might take a bite out of Apple's sales if their survey results pan out and if Apple spends the next 90 days playing Super Monkey Ball.
ChangeWave's analysis focuses heavily on quarter-over-quarter results which, dear readers, is the hallmark of a firm jumping up and down yelling "Look at me, mom! Mom! Look at me!" Apple does not quote year-over-year results simply to satisfy some whim of Steve Jobs. It's simply the way it's done. Unlike Flash fever and Vista activism, cyclicality is not a myth. You might be able to get a glimpse of a trend by looking at sequential results, but you darn sure better take other factors into account.
Yes, the number of ChangeWave respondents who said they were going to buy an Apple laptop declined since November. But it's worth noting that this follows a quarter when Apple introduced new models, so one might reasonably expect a decline as some pent-up demand has already been relieved. Also, ChangeWave's projected decline for Apple is at a slower rate than the overall decline of laptop demand. Even if this decline materializes, it will still represent a modest 3% increase year-over-year. That's not great, but it's not exactly panic-inducing, either.
And it's not like ChangeWave predictive ability has been bulletproof. At the end of September, the firm similarly predicted a drop in demand for Apple laptops for the next 90 days. As we all know because we love to rub these stats in peoples faces, Apple's laptop sales grew 7%.
Sadly, both the Macalope's old colleagues at CNet and his new colleagues at ComputerWorld typed up this tripe. Note to people covering this as science rather than performance art: you meant to say "demand for Apple laptops may be declining."
Why does it have to take a mythical creature to separate fact from fiction?