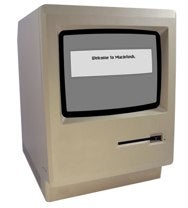 The makers of the Mac documentary film Welcome to Macintosh —which covers Apple's history, its future, and its committed user base—aren't so hoity-toity that they're only appearing at film festivals. They're also putting the film on tour, for special screenings at Mac and Apple User Groups.
According to co-director Josh Rizzo, the filmmakers have already scheduled screenings at seven different user groups, including more than 700 members who have signed up for screenings. The film will be screened Saturday at both the Washington Apple Pi user group in Rockville, Maryland and at Apple reseller FirstTech in Minneapolis.
Other groups that have signed up for screenings so far include the Arizona Mac User Group in Scottsdale, Nashville Mac Users in Tennessee, Environmental Mac Users in the Washington D.C. area, the Rhode Island Macintosh User Group, and the Applepickers of Central Indiana.
Rizzo encouraged other user groups who are interested in holding a screening of the film—which the filmmakers say has been praised by such Apple luminaries and/or media figures Steve Wozniak, Guy Kawasaki, Andy Hertzfeld, Ron Wayne, and Wired's Leander Kahney—to visit the screening page on the film's web site.