Like Dr. Phil, gratitude journals first rose to national prominence after being promoted by Oprah Winfrey as vital to her well being. By keeping a log of the things you are thankful for—so the theory goes—you attract even more positive things into your life, giving you even more for which to be grateful.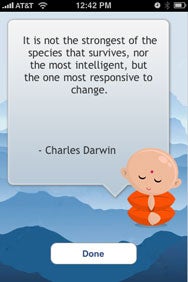 Regular gratitude journalers can now be thankful for the addition of the $1 Gratitude Journal by Happy Tapper to the App Store.
Gratitude Journal's interface comes with several themes designed to evoke peaceful settings—blue mountains, snowflakes, and lotus flowers should help you feel like a zen master. Adding entries strongly resembles writing notes in the iPhone's default Notes application, but Gratitude Journal lets you go a step further by rating your day and attaching a photo to your journal. Once you finish writing down all the great things in your life, Gratitude Journal presents you with an inspirational quote, to encourage you to be even more positive.
While Gratitude Journal's interface and concept might be too sugary for the cynics among us, it might just help journal keepers remember the best things in their lives. Isn't that something to be thankful for?
Gratitude Journal is compatible with any iPhone or iPod touch running the iPhone 2.x software update.
[Kate Dohe is a graduate student in library and information science at the University of Hawai'i in Honolulu; she works with the Laboratory for Interactive Learning Technologies as a designer and site administrator.]