There's always a wide variety of entertainment and gaming options on your iPhone and iPod touch, thanks to the ever-expanding selection of titles on the App Store. Here's a roundup of some recent releases.
Time Crisis Strike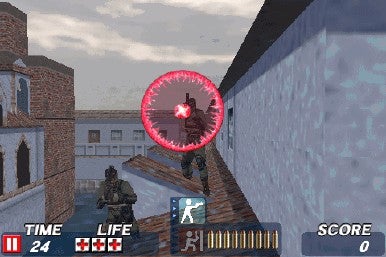 Namco Networks has released the $5.99 Time Crisis Strike, an iPhone and iPod touch game based on the popular "duck and shoot" arcade game. You shoot at terrorists and bad guys by pointing at them on the screen, and you reload and dodge their bullets by tilting the device either away or towards you. Arcade mode, "Crisis Missions" and other features round out this game.
Days of Thunder
Available for 99 cents for only a few days, then it goes up to $4.99—Freeverse Software's Days of Thunder, licensed from the Paramount movie. It's a stock car racing game in which you have to knock your opponents out by "rubbing" them and hitting them to get them off the road. "Rubbin' is racin'!"
Photo Spot
In Photo Spot, your goal is to spot the differences in the two photos before time runs out. The 99-cent game features more than 100 sets of images, the ability to save game progress and support for your own soundtrack.
Treasure
Treasure makes you a pirate who's out to capture all the treasure he can. It's a brick bashing game similar to Breakout, but there is no paddle—you control the ball. You have to clear each board of differently colored bricks to change the color of the ball. There are powerup bricks and poison bricks. It costs 99 cents.
Circuit Defenders
Sector3 has released Circuit Defenders, a $2.99 tower defense-style game where you must defend your computer's circuits from being attacked by virus armies. The game features 10 levels, a variety of tower types with upgrade attributes, automatic save and online high scores.
SlotZ Racer updated
Freeverse has released an update to SlotZ Racer, its slot car racing game for the iPhone and iPod touch. The 1.1 release adds a new Track Manager page, lets you spruce up your track designs with scenery, adds five new camera modes, a Shake feature, four new cards, four bridge heights and more. The update is free for users, and the game costs $2.99.
SpongeBob Tickler
Nickelodeon is bring games and entertainment products to the iPhone and iPod touch starting with SpongeBob Tickler. For $1.99, you can shake, poke and stretch SpongeBob SquarePants, make him dance, blow bubbles and more. Just the thing if you have a young SpongeBob fan who you want to entertain with your iPhone.
TapStar
In TapStar, you have to test your reflexes to perform various commands at a faster and faster pace. The game features five increasingly different puzzle levels and a party mode. It costs $1.99.
Golf Smak
Golf Smak, for 99 cents, isn't a game as much as a way to smack talk and have a good time the next time you're golfing. The game features more than 50 sound bites to liven up your next round on the links.
LuckyDice (Valentine's Fun)
Viximo's 99 cent LuckyDice (Valentine's Fun) is a romantic dice game that tells you what to do next, each time you give the dice a roll (which you do by shaking your device).
LovePotion
From the same company that makes LuckyDice comes LovePotion, a 99 cent app for Valentine's Day that lets you brew "a potent passion cocktail" that you can pass along to that special someone.