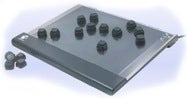 If there's a place where Windows has always had an advantage over the Mac, it's in supporting esoteric peripherals. Take the Ergodex DX1. It's a free-form keyboard, basically. You can stick on keys anywhere, in any arbitrary fashion, then map them to keyboard equivalents. Want to arrange them in a grid? You got it. Want them in a semi-circle? Cool. Want them just plopped on there in no particular pattern? That works too. It's a cool idea for people who want to build their own custom key interface, for gaming or just about any other specialized task you can think of.
The device itself isn't new, but the software bringing its support to the Mac is. PolyMicro's Keyjack software, bundled with the DX-1 by Solitude Northwest, brings full Mac support to the device, including full key mapping and even AppleScript support for you automation gurus.
The keyboard and software bundle costs $165 and requires OS X 10.4 or 10.5. And so one more piece of esoteric hardware falls into the cross-platform column.