SimCity originally came to the Macintosh in the late 80s and made Will Wright a major player in the gaming community. After international success, 20 years of sequels, and ports to multiple gaming platforms, SimCity has arrived for the iPhone, thanks to Electronic Arts. When I was in 7th grade, I used to play the original SimCity in computer class in order to avoid doing work. Now I'm paid to review the latest version of SimCity for work. And my teacher said I'd never amount to anything! Ha!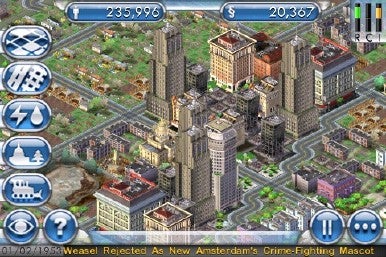 For those new to the series, SimCity tasks the user with running a virtual city. As the mayor of a population of Sims, you govern everything from residential zoning to plumbing to city ordinances. After you power and supply water to residential zones, your city will gain new citizens and be confronted with new challenges. Do you purchase a new police station or raise commercial taxes? Will a bus service suffice or should you purchase a train system? The choice is yours.
Old fans will recognize that this is not a true port of the original SimCity. The graphics have been updated and many of the features are taken from SimCity's sequels. While SimCity for iPhone gleans the best game elements from the franchise and combines them into a more compact game, the downside is that it's less navigable and if you don't know what you're doing, the help menu and tutorials offer precious little help.
Read more…
The original SimCity, despite its mainstream success, is a remarkably deep and complex simulation. The player must constantly adjust water, electricity, taxes, ordinances, budgets, and transit for the changing conditions of the city. As complex as SimCity is, some of the game's finer elements aren't well translated to the iPhone. Long load times hamper a smooth experience and the game's tutorial doesn't go into greater detail about some of the finer points of the game, like how to respond to economic demand. It's easy to figure out when your Sims want you to build more industrial areas, but learning how to increase land value is another matter. You have a full cabinet of advisors to help guide you, but there are some blind spots in their guidance. For example, an advisor may tell you to build a stadium, but not how to accomplish this.
Strategy games are difficult to translate to a mobile platform, and SimCity is unfortunately not an exception. I found the iPhone platform isn't particularly well suited for the game. I did like that you could shake the iPhone and a cheat code prompt comes up, but the touchscreen presents some challenges to the micro-organizational aspects of the game. You use your finger as a mouse cursor and while a mouse can be quite exact in the placement of roads, your finger tends to be a clunky instrument. The menus aren't easily navigable and utilizing the various tools at your disposal can be a real challenge. While pinching to zoom in and out is supported, scrolling through news items for different advisors becomes a chore.
Thankfully, some of the old school charms of the game are still intact. Seeing the news ticker at the bottom of the screen with its satirical (but informative) headlines is a great way to stay up to date with the goings on of your city. Your advisors are as demanding and annoying as you remember them, and it's still a real hoot seeing your city burn when confronted with a disaster like a tornado or UFO attack.
SimCity for the iPhone is true to the series and a solid strategy game with many memorable moments, clever nuances, and a high level of replayability. Experienced fans of the series will take some time adjusting to the touchscreen controls, but ultimately geek out at seeing this miniature version of their beloved game. Persons new to the series should experience this iconic strategy game but this may be a rocky introduction. If they can forgive some of the wonky controls and indecipherable guidelines, they'll understand why this is one of the most addictive and clever strategy games of all time.
Sim City is compatible with any iPhone or iPod touch running the iPhone 2.2 software update.
[Chris Holt is an assistant editor at Macworld.]