The Dream Apps on Friday announed the release of Involer, an invoicing application for Mac OS X. It costs $19.99.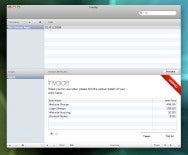 Involer supports multiple companies and clients. Invoices can be exported to PDF, and the interface lets you manage past and present invoices, search through an archive, track clients, automatically update, manage live invoice totals automatically, and track paid and unpaid invoices. The software features universal currency support.
Involer requires Mac OS X 10.5 or later.