Handmark's Astraware label has long held the distinction of being a premier publisher of games for Palm OS-based PDAs and smartphones, so it's only natural that they'd try their hands at the iPhone and iPod touch game market. The company is wading in easy with the release of Hellfire, a 3-D helicopter shooter.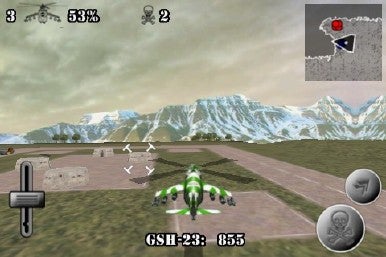 If you've had a Palm PDA in the past and this game looks familiar, it should. Hellfire is recycled from the Palm and Windows Mobile. In fact, I played this first several years ago on my Zodiac, a Palm PDA optimized for games. It's a Cold War-inspired action game in which you pilot a helicopter on a series of seek-and-destroy and rescue missions. You can choose to playe either as a pilot for the U.S.A. or the U.S.S.R. (do you kids today even remember the Soviet Union?), and once you choose "rank" (essentially a difficulty setting), you go off flying and shooting on more than a dozen missions in various hotspots around the world.
Missions incorporate multiple objectives – rescue prisoners in heavily fortified bunkers; destroy enemy defenses; take out an enemy naval vessel or aircraft, and so on, and they're strung together so you need to accomplish several tasks in order to succeed. A helpful arrow appears to direct you where you need to fly to next, and the game will tell you when your objectives are reached by printing comments like MISSION ACCOMPLISHED in suitably military-style stencil.
Read more…
You've got a trio of weapons at your disposal—a small array of powerful guided missiles that can usually take out their target with a single shot; rockets that might require a few hits but can usually destroy what needs to be nailed; and your guns, which, while weak, are plentiful in ammunition. Aiming is an automatic process; you just need to hover in the vicinity of the target long enough for your weapons systems to lock on (a targeting reticule appears when that happens, and you can let loose with a barrage of, well, hellfire).
Hellfire makes good use of the iPhone's controls; weapons fire and altitude adjustment is done using on-screen controls, and the helicopter's direction and speed is managed by tilting the iPhone forward, backward, left and right. You can hover after a fashion by carefully righting the iPhone to a neutral position, and the game's options include a sensitivity adjustment if you find the default settings too "twitchy."
Choosing either U.S. or Soviet helicopters affects what appears on the screen – either an Apache helicopter (the choice of U.S. forces), or a Hind (the Soviet heavy gunship). Otherwise, the differences are cosmetic; the weapons and mission types are basically the same.
Once you've successfully played through the campaign mode, which takes you step-by-step through the 16 missions, you can replay individual missions (any mission that you've successfully completed is unlocked). Built-in help demonstrates how to fly and shoot.
The game uses colorful 3-D graphics that fill the screen, along with a suitably heroic marshal soundtrack and sound effects including whirling propeller blades, whoosing rockets and thudding guns. It saves in between levels so you can return to the game at any time and not have to replay from the very beginning; if you're shot down mid-mission, you'll have some lives to replay, but you won't have to restart from the beginning of the mission again, which is a nice accommodation.
Hellfire is a fun game at a fair price, but the missions get boring quickly and don't differentiate enough between the two sides represented in the game to really make you feel invested in playing through to the end of both campaigns. Still, if blasting bad guys in a combat helicopter sounds like a good time, this one is worth checking out.
Hellfire is compatible with any iPhone or iPod touch running the iPhone 2.x software update.
[Macworld senior editor Peter Cohen saw Red Dawn 56 times, mainly because there was nothing else on HBO back in the '80s.]