StoreIt for the iPhone and iPod touch allows you to create very simple databases of information—expense logs, time logs, invoice data, to do lists, and so forth. Within each database, you can create multiple fields to hold all kinds of information.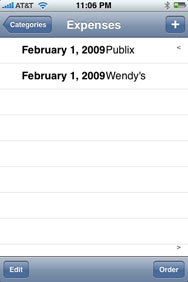 Facdatum's application leaves a little to be desired when you first launch it. There is no splash screen, help links, or information on how to get started. Instead, you start with just a blank list, which means you'll need to know the standard iPhone interface to create your first database.
You've got plenty of field types available: Text, Number, Date, Time, Date & Time, Note, Image, and Items. You can adjust the order and what information is shown with the category—I like having that flexibility. In my tests, I built an expense tracker to store where I spend money, when, how much, and a type. The Type field allowed me to categorize my expenditures from food to entertainment. I could enter "Lunch," if I wanted to track exactly what I was spending daily on lunch, instead of combining it with everything else under "Food" or "Groceries".
StoreIt contains a surprise feature that I found very ingenious—a pseudo Web server that can be used to collect your database information on a computer. When you tap the sync symbol at the bottom of the screen, you are given a screen with a URL that you can connect to on a local network via your Web browser. You will see the databases/categories you have created and links that lets you download your database as a text file, backup a StoreIt version, or restore a database. The backup version contains all of the field definition information that can be used to recreate the database within StoreIt. You also have the ability to restore a current backup to a new category, which is perfect if you need to create a copy or very similar database without entering each tedious field again.
Overall, StoreIt is a useful—if especially Spartan—way to create a simple database.
StoreIt is compatible with any iPhone or iPod touch running the iPhone 2.x software update.
[John Congdon is the CTO of bowlingball.com, co-host of TalkBowling.com, and a part-time blogger.]