EMV Software AS and Phelios have announced the release of Pixie, a new game for the Mac that costs $19.95. A playable demo is available for download from the Web site.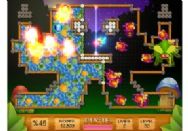 You're a pixie — a woodland sprite — and you need to find your way home through a dark forest and back to your friends and family. To do so, you need to send magic vines to fence off critters that would prevent your journey. The game features 100 levels, bonuses like potions and two "Boss" creatures to pit your skills against.
Though the game's storyline is grounded in light fantasy, Pixie is an arcade-style game in the style of classics like Qix or Ambrosia Software's Barrack — you cordon off the screen by sending vines in parallel directions to block creatures moving in the play area.
Pixie requires Mac OS X 10.3 or later, 128MB RAM, 35MB hard disk space.