After months of speculation, Amazon.com on Monday introduced a new version of its popular e-book reader, the Kindle. The Kindle 2 sports a dramatic redesign and will begin shipping on February 24 for $359.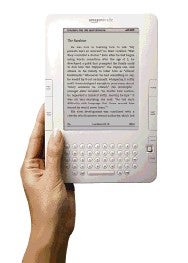 Like its predecessor, the Kindle 2 is designed to enable people to read books, newspapers, magazines and blogs by downloading them through a 3G wireless network. It sports an "electronic paper" display that simulates real paper; Amazon claims that it doesn't cause eyestrain like a backlit LCD can generate. Amazon.com currently touts more than 230,000 books, along with newspapers, magazines and blogs which can be read using the Kindle devices.
The original Kindle was bulky and angular. The Kindle 2 has been completely redesigned; it features new buttons, a new five-way controller and a redesigned power charger. The device's interface lets you search for text, write notes and annotations, and highlight text that interests you.
Unveiling Kindle 2 during a press event at The Morgan Library & Museum in Manhattan, Amazon.com founder, chairman and CEO Jeff Bezos aid that Amazon knew when it was designing the first Kindle that the only way an e-book reader would appeal to people who love books is if it was designed to let readers "disappear so you can enter the author's world."
To facilitate this in Kindle 2, Amazon has recessed the buttons of the new Kindle into the device to make them less obtrusive. Users also can switch Kindle 2 more easily from one hand to the other than they could its predecessor, he said. The Kindle 2 is also slimmer and lighter.
Inside, the Kindle 2 features 2GB of memory storage—more than seven times the storage capacity of the original, capable of holding more than 1,500 books. (The original Kindle could store only 200.) E-books purchased through Amazon.com are automatically backed up, so Kindle users can re-download titles in their library at any time.
The new Kindle 2 touts 25 percent longer battery life than its predecessor, and can operate for about two weeks on a typical charge (with wireless networking turned off), according to Bezos. The charge lasts for approximately four to five days on a charge with its 3G networking on.
A new text-to-speech feature lets the device read to you—any text visible on the Kindle can be read, and you can adjust the speed of the playback and gender of the voice. Your page location is saved if you're listening to the content, so you can return to it and read or have it read to you later. The Kindle 2 also comes with the New Oxford American Dictionary built-in.
The Kindle 2 measures 0.36 inches deep—thinner, in fact, than an iPhone (which measures about 0.48 inches deep), and weighs 10.2 ounces. The display is 800 x 600 pixels, and can show 16 shades of gray (versus 4 on the original Kindle). Pages "turn" an average of 20 percent faster on the Kindle 2, according to Amazon. You can choose from six different text sizes.
Bezos also touted "Whispersync," a new synchronization technology Amazon is introducing with the Kindle 2. Whispersync automatically syncs with the original Kindle and Kindle 2, along with future as-yet unannounced devices.
Like Kindle 1, users can purchase and download books and newspapers for the new device on the Kindle Store via Amazon Whisphernet, the company's wireless delivery system. Most books are $10 or less, and Amazon covers the cost of wireless connectivity so users don't have to pay monthly for a separate wireless account on the device. This also eliminates the need for a computer, Wi-Fi hotspot or any syncing in order to download content to the device.
Amazon unveiled the Kindle in November 2007. Interest at first was lackluster, but about a year after its release U.S. talk-show host and media mogul Oprah Winfrey promoted the device, which sent sales surging. Amazon couldn't handle the demand her endorsement inspired and Kindle 1 has been out of stock since November.
Amazon is offering a special deal for owners of Kindle 1. If they order the new device before midnight local time Tuesday night, they will get priority over other buyers of the device.
With the Kindle, Amazon hopes to change the publishing industry the way Apple changed the music industry with the iPod. Bezos said the company's ultimate goal with the device is to have "every book ever printed in any language, all available [for download] in less than 60 seconds."
Elizabeth Montalbano of IDG News Service contributed to this report.
Updated at 1 p.m. PT to include information on the press event from IDG News Service.