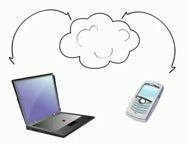 Syncing your contacts and calendars to the iPhone—and, more importantly, keeping them in sync—is easy enough if you're using MobileMe or have a Microsoft Exchange account, which keep your contacts and calendars up to date through the magic of wireless syncing. Meanwhile, those iPhone users relying on online services such as Yahoo and Google have been sort of second-class citizens, forced into the inequity of having to plug their iPhones into their computers.
But if you're a Google user, those days are now coming to a close. On Monday, Google announced that it'd now be offering over-the-air synchronization of Google contacts and calendars with the iPhone, iPod touch, Windows Mobile-based phones, and SyncML-compatible devices. The secret sauce that makes it all so delicious? As it turns out, it's Microsoft's ActiveSync technology—the same foundation that enables Exchange's own synchronization features.
Google provides instructions for setting up syncing for either Mac or Windows, which is as easy as backing up your iPhone data and creating a new Exchange account on your iPhone. Google Sync is currently in beta, and right now it only allows syncing contacts and calendars—mail still needs to be handled via a separate IMAP or POP account—and those using SyncML are only able to sync contacts at present. And, of course, there are a few known issues with syncing. Still, it's a step in the right direction, and one that may even get a few MobileMe users thinking about jumping ship.