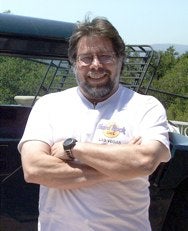 We know Steve Wozniak's got brains and technical know-how up the wazoo, but have you seen the man dance? Neither have we, actually—nor have we ever felt particularly curious as to whether or not he's got killer moves.
For better or worse, however, we'll get an opportunity to check out his groove when he appears on the hit TV series Dancing With the Stars this upcoming season. The whimsical Wozniak will be among the 13 celebrities that will compete on the reality show when the new season begins March 9. We here at MacUser wish the best of luck to the Walzing Wozniak. The Prancing Programmer. The Wizard of Woz doing the Macintosh Mambo…okay, okay, I'll stop.
In all seriousness, watching Wozniak, who doesn't come off as the most nimble of men, dancing off against famous pop stars, athletes, and professional dancers should make for, er, interesting viewing. And by interesting, I mean 'most likely cringe-inducing', but we shan't judge the man just yet. All those years of Segway polo are bound to have done wonders for the man's balance and coordination.
I do have my reservations, however. For one, as recently appointed chief scientist at solid state storage company Fusion-io, how's he going to find the time to brush up on his tango?