Jugaari has quickly made a name of itself, building iPhone apps that give you control over your computer via your mobile device. Two of its products— Jaadu VNC and Touchpad Elite give you control over both Macs and PCs. A third, Jaadu Remote Desktop (or Jaadu RDP) provides a remote desktop for Windows-based PCs; it's a great tool for people who have a PC at the office, spend time in cross-platform environments, or—as difficult as it might be to believe—opted for a Windows machine over a Mac.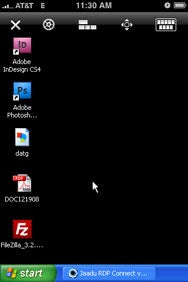 Using Jaadu RDP is like having your computer in your pocket everywhere you go with the ability to use all of your PC applications like Microsoft Office, Photoshop, iTunes and your favorite browser with Flash support. Jaadu RDP even streams audio directly to the iPhone.
Setting up a secure data-encrypted connection with your computer couldn't be easier thanks to the automated Jaadu RDP Connect software. Just download, install and run the program to automatically get your PC ready to connect to Jaadu DRP. If you would rather not have the Jaadu RDP connect software constantly running on your desktop (as it must be to enable remote access) then you can set up your PC manually following the directions on Jugaari's Web site. I found the tech support team to be very helpful and quick to respond.
Read more…
Using the same interface as Jaadu VNC (formerly Teleport [ ]), Jaadu RDP's interface and controls are very polished and user friendly making for an enjoyable experience. Because you control the cursor, you can point and click accurately. You access the keyboard by taping the keyboard button on the top of your iPhone screen. Jaadu RDP gives you a large heads-up preview of what you're typing to help you avoid errors.
Next to the keyboard button, you'll find two additional buttons for all the other standard keys such as control, shift, delete, tab, and so forth. Right click (a two-finger tap) and double click are supported, as is page scrolling (a two-finger swipe).
Jaadu RDP works in both portrait and landscape mode, allowing you to pinch and zoom so you can make the most of the iPhone's 3.5-inch screen. Under the advanced options, you can set your preference for settings such as resolution, color, audio, rotation lock, and much more.
You can access your home or office PC over a Wi-Fi, 3G, or EDGE connection. While using Jaadu over the EDGE network, I noticed a little delay between the iPhone and my PC, but it was still useable. A connection over a 3G network worked without nearly any delay, and a Wi-Fi connection provided instant response, as if I were at my PC. Overall, I was really impressed with how fluidly Jaadu RDP preformed over each of these connections.
Streaming audio from my home computer worked surprisingly well over a Wi-Fi connection though not so well with an EDGE connection—an iTunes track played via EDGE sounded very choppy. Then again, if you wanted to listen to music you would just listen to the tracks loaded on your iPhone. System sounds however were just fine over any connection.
The app works with PCs running Windows XP Professional, Windows Media Center Edition, Windows Vista Business and Ultimate, and—after a recent update—Windows Server 2003/2008. It does not support Windows XP Home or any Windows Vista Home edition.
Overall, Jaadu RDP is an exceptionally well-built and polished app that stands out among the other remote desktop apps out there, particularly if you've got a PC to control.
Jaadu Remote Desktop is compatible with any iPhone or iPod touch running the iPhone 2.2 software update.
[Tim Mercer is a technology enthusiast, graphic designer, and blogger, whose blog, digital-artist-toolbox.com, offers free resources to the digital artist and graphic designer.]