If you use a ruler or a tape measure, you've got an excellent tool in InchCalc+ from River Studio. The construction calculator and conversion tool provides an easy, straightforward way to work with feet, inches, and fractions, performing complicated conversions with ease. (A free version of InchCalc offers the construction calculator features but not the conversion capabilities.)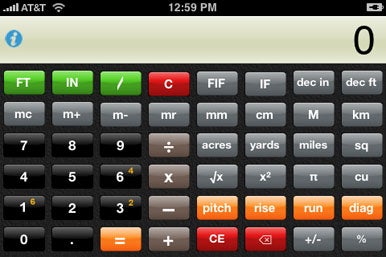 With so many calculator and conversion apps available through the App Store, it's easy to dismiss InchCalc+ as just another calculator. But there's a critical difference: InchCalc+ is fully-featured, with an intuitive interface that lets you enter values as you would say them.
Entering fractions is also a breeze. River Studio came up with a great way of largely eliminating errors by providing a single button denominator function. Since we're only working with fractions you'd find on a ruler or tape measure (1/2, 1/4, 1/8, 1/16, 1/32, and 1/64) the application simply ignores strange fractions like 1/34, by allowing only input for commonly used fractions.
InchCalc+ boasts some very interesting advanced functions as well. Automatic triangle functions let you find rise, run, diagonal, and pitch by entering two known values—the app will automatically find the other two. InchCalc+ also allows you to work with either linear measurements or area measurements. For example, you can perform calculations on feet, miles or yards as well as square feet, square miles, or square yards. You can also work with volume: cubic feet, cubic inches, and so forth.
River Studio provides great online documentation, with detailed instructions on how to use the app to its fullest. My only complaints are minor—tapping the Help button takes you to River Studio's Web site without any warning, and I noticed a bit of a delay between some button taps.
InchCalc+'s ease of use coupled with its advanced features make this an uncommonly good addition to a crowded genre.
InchCalc+ runs on any iPhone or iPod touch running the iPhone 2.2 software update.
[Chester Baker is a technology and radio control car enthusiast from central Oklahoma.]