Postbox on Monday announced the release of a public beta of Postbox, a new e-mail client for Mac OS X and Windows. It's available for free download now. This marks the general release of the public beta (before now, it had been private).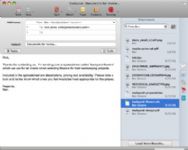 Postbox — based on technology developed by Mozilla — is aimed at users looking for new ways to organize, locate and use the data that's sent to them by e-mail. The software will automatically detect, analyze and catalog all that data, whether it's text, documents, images or Web site URLs. Postbox then builds a searchable catalog that can help you retrieve or navigate to that data when you need it.
The Postbox application includes features like a Compose sidebar panel that lets you find attachments, images and links; an Inspector pane that helps you to look for interesting content in each message; Contacts panel to get access to address book data; tabbed mail browsing; message view by "conversation," arrangement by topics; quick tagging which applies metadata to all the messages in a conversation; a dedicated Archive folder; to do list management.
Postbox 1.0b7 requires Mac OS X 10.4 or later.