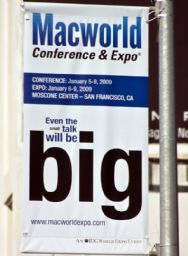 There's been some angst about attendance for next year's Macworld Expo. Apple won't be there. Adobe wasn't there this year. What's the impetus for buying a ticket to the show, a plane ticket, and shelling out for a hotel room?
MSN, of all sources, has come up for the best reason to show up. It's a great place to pop the question.
This one's strictly for the fanboys. If you're an Apple-lover and want your love life to be as integrated as your hardware, propose at Macworld. The world's largest trade show dedicated to Apple technology has been held annually since 1985, most recently in San Francisco this past January. … Regardless of where you propose, we hope you'll be as self-satisfied about your choice of a spouse as you are about your computer.
Nothing says loving like a feature presentation followed by asking the woman of your dreams to spend the rest of her life with you at one of the vendor kiosks. It's ten times more romantic than tweeting your proposal.
Your suggestions for best Macworld event or kiosk at which to propose go in the comments. Show me romance isn't dead, people.