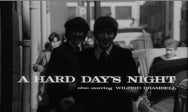 Our contractual obligations mean that we are duty bound to inform you of any developments in the world of iTunes and the Beatles. Trust me: we don't like it any more than you do, but if we don't report it, then we will be rent limb from limb by a madding horde of zombies, like the beginning of A Hard Day's Night.
So, I'll try to make this as painless as possible. In an interview with Entertainment Weekly's PopWatch blog, Sir Paul—now 66 and looking remarkably well-preserved—talked about his latest collaborations, vegetarian lasagna, and, yes, the state of The Beatles on iTunes.
Last October, MTV announced that subsidiary Harmonix, developer of Rock Band, would produce a video game title featuring Beatles music, the first time the catalog would appear in digital form. So what of iTunes?
It's a bit of a sticky issue. We want it to happen. The record company was taken over by new people quite recently, so there is a gridlock of sorts. I'd like to make it happen. Though I am not part of the negotiations, thank goodness [laughs].
There you have it. That didn't hurt a bit, now did it? Slap this band-aid on, go grab a cookie, and off with you. You've got more important things to do.
[via Ars Technica]