At a Glance
Expert's Rating
Our Verdict
For many users of the Web, Flash has become the bane of browsing. (I write this knowing full well that Macworld.com itself includes Flash ads.) It's not just that some sites include annoying, auto-play Flash content that blares obnoxious audio across the office without any interaction on your part. (Although such content should indeed be banished from the Web forever.) It's also the fact that lots of unwanted Flash content can bring your Web browser to a crawl.
If you browse the Web using Safari, ClickToFlash, still in its early stages of development but already working well, can help you rein in Flash. Based on a now-defunct Google Code project, ClickToFlash is a free Webkit plug-in that prevents Flash content from loading automatically.
With ClickToFlash installed, any Flash content on a Web page will be replaced by an empty box with the word Flash inside: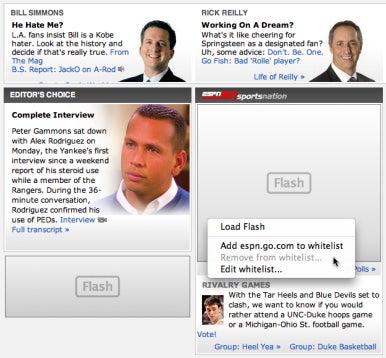 What if you want to view a particular bit of Flash content? Just click on that box and ClickToFlash will load it (and only it; all other Flash content on the page will remain Flashona non grata). Alternatively, you can right-click on a blocked box and choose Load Flash.
This contextual menu also provides a useful option for always allowing content from your favorite sites and from common sources such as YouTube. By choosing Add domain To Whitelist, ClickToFlash adds that server to a list of allowed Flash sources. The Edit Whitelist command lets you manually remove servers you previously whitelisted.
How can you tell if a particular bit of blocked Flash content is "real" or an ad? One way is to access that same contextual menu and look at the domain listed; for example, on the ESPN Web site, anything from espn.go.com is likely ESPN content, whereas view.atdmt.com, to use an example from the past few days, is likely an ad. Alternatively, just move your mouse cursor over a blocked Flash area; after a few seconds, a small tooltip displays the URL of the blocked content.
One thing that makes ClickToFlash unique from other Flash blockers is that it's a Webkit plug-in, rather than an Input Manager hack. This means ClickToFlash uses an officially-sanctioned method of adding functionality, rather than an unsupported system hack. In addition, Webkit plug-ins work with all programs that use Webkit; so, for example, ClickToFlash also blocks Flash content in NetNewsWire.
ClickToFlash is still in early development, so there are a number of minor issues, such as particular types of Flash that won't load with ClickToFlash installed, even if you manually click on them; sites that can't be added to the whitelist; and odd behavior with Flickr.com. The Click to Flash Developers (currently led by Jonathan 'Wolf' Rentzsch, one of the developers of Textcast) have confirmed fixes for some of these issues and have also announced a number of new features in the works. I'm looking forward to upcoming versions.