At a Glance
Expert's Rating
Pros
Greatly improved graphics power
Full-size keyboard
Bright display
Cons
No video adapters or Apple Remote in the box. CPU speed is slightly slower than previous white MacBook model
Our Verdict
In January 2009, Apple updated its entry-level MacBook to improve the graphics while maintain the same sub-$1,000 price tag. While the Nvidia GeForce 9400M still shares its memory with the system RAM, there's a lot more memory to share (256MB instead of the 144MB the old integrated Intel graphics had at its disposal). The machine also ships with 2GB of RAM instead of 1GB. The processor has been bumped down to 2GHz from 2.1GHz, but the system bus is faster.
While Apple's MacBook ( ) and MacBook Pro ( ) laptops have been re-engineered to include an all-aluminum unibody design, one lone plastic—err, I mean polycarbonate—model remains. With its recent internal updates, the $999 white MacBook 2GHz is a better all around system than the white MacBook it replaces.
Externally identical to the last white MacBook, the new 2GHz model has the same number of peripheral connections (a pair of USB 2.0 ports and a single FireWire 400 port) and keeps the same mini-DVI port, as opposed to the new Mini DisplayPort connector found on the rest of Apple's current laptops. The new white MacBook also continues to offer the same glossy, 1,280-by-800 pixel display, the same 120GB Serial ATA hard drive, and still weighs in at 5 pounds, a half-pound more than its aluminum-clad siblings.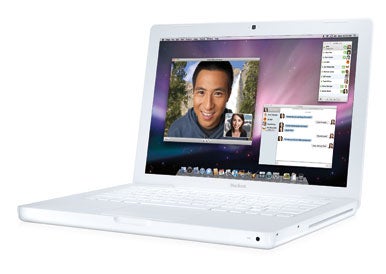 Under the hood, however, there are a few welcome changes. The biggest change is the inclusion of the Nvidia GeForce 9400M graphic subsystem, a major upgrade over the Intel GMA X3100 used previously. Like the X3100, the 9400M is an integrated graphics chip that shares its memory with main memory. The 9400M uses 256MB of memory, a boost over the 144MB used by the X3100. The second update is a doubling of the RAM—the entry level MacBook ships with 2GB of 667MHz DDR2 RAM, compared to just 1GB of the same type of memory in the previous version. The latest white MacBook also has a faster front side bus, now running at 1,066MHz instead of 800MHz before. Interestingly, though, the new processor runs at 2GHz, a wee bit slower than the last generation's 2.1GHz processor.
MacBook 2GHz (white) Speedmark scores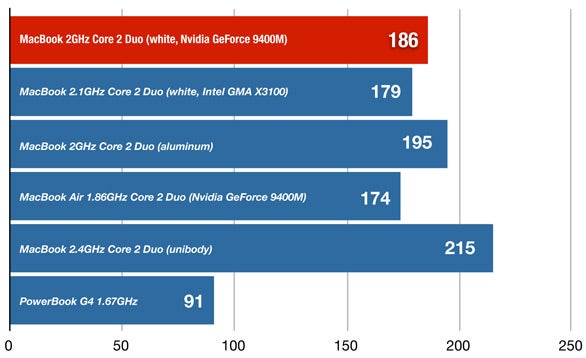 What do these changes mean in terms of speed improvement? In overall performance, the differences were as subtle as you'd expect, with the new white MacBook getting a nearly four percent higher score than the previous white MacBook in our system performance benchmark Speedmark 5. In most processor-intensive tests, the new white MacBook is slightly slower than its predecessor, which isn't surprising, considering that the new white MacBook has a 2GHz processor, compared to the 2.1GHz processor in its predecessor.
But the new white MacBook showed improvement in our 3-D game benchmarks; in fact, the new Nvidia-powered MacBook can display nearly four times as many frames per seconds in our Quake tests as the last generation with its Intel graphics. (Keep in mind that Speedmark requires 2GBs of RAM, so the performance differences would be more pronounced if we tested the older white MacBook with its 1GB of stock RAM.) The new MacBook's Quake score was 21 percent faster than the high-end, 1.86GHz MacBook Air and 22 percent slower than the next step up the MacBook ladder, the 2GHz aluminum MacBook with its faster, 1,066MHz DDR3 RAM.
The new white MacBook was about five percent slower in our Speedmark 5 tests than the 2GHz aluminum MacBook, but in many tests the results were very close, with the white MacBook even turning in a slightly faster time than its aluminum sibling in a few tests. Against the high-end 1.86GHz MacBook Air, the white MacBook was faster in most of the tests, though the Air's speedy solid state drive gave the Air an edge in hard disk-intensive tasks.
Apple says the new MacBook's battery life will last about 4.5 hours, but in our worse-case scenario testing—watching a movie from the hard drive at full screen and full brightness—we got 2 hours and 42 minutes of battery life, about 10 minutes more than with the last generation white MacBook, and about 6 minutes more than the 2GHz aluminum MacBook.
MacBook 2GHz benchmarks
| | Speedmark 5 | Adobe Photoshop CS3 | Cinema 4D XL 10.5 | Compressor 3.0.4 | iMovie HD | iTunes 7.7 | Quake 4 | Finder | Finder |
| --- | --- | --- | --- | --- | --- | --- | --- | --- | --- |
| | OVERALL SCORE | SUITE | RENDER | MPEG ENCODE | AGED EFFECT | MP3 ENCODE | FRAME RATE | ZIP ARCHIVE | UNZIP ARCHIVE |
| MacBook 2GHz Core 2 Duo (white, Nvidia GeForce 9400M) | 186 | 1:14 | 1:03 | 2:08 | 0:58 | 1:13 | 30.1 | 5:35 | 1:34 |
| MacBook 2.1GHz Core 2 Duo (white, Intel GMA X3100) | 179 | 1:18 | 1:01 | 2:02 | 0:56 | 1:09 | 7.6 | 5:29 | 1:44 |
| MacBook 2GHz Core 2 Duo (aluminum) | 195 | 1:08 | 1:05 | 2:10 | 0:55 | 1:11 | 38.7 | 5:34 | 1:24 |
| MacBook Air 1.86GHz Core 2 Duo (Nvidia GeForce 9400M) | 174 | 1:18 | 1:25 | 2:59 | 1:13 | 1:36 | 24.8 | 5:53 | 1:19 |
| MacBook Pro 2.4GHz Core 2 Duo (unibody) | 215 | 1:08 | 0:54 | 1:53 | 0:49 | 1:04 | 58.9 | 5:05 | 1:18 |
| PowerBook 1.67 | 91 | 3:02 | 3:57 | 7:47 | 1:59 | 2:26 | 19.9 | 7:14 | 2:21 |
| | >Better | <Better | <Better | <Better | <Better | <Better | >Better | <Better | <Better |
BEST RESULTS IN BOLD. REFERENCE SYSTEMS IN ITALICS.
Macworld's buying advice
As far as system updates go, the changes to new white MacBook are welcome, if subtle. The new faster graphics will make casual gamers happy, and who doesn't like additional RAM? Though the slightly slower processor didn't help performance any, this new white MacBook is a solid entry-level product. And if you need a Mac portable with FireWire, it's your most affordable choice, with the cheapest MacBook Pro costing twice as much as the white MacBook.
[James Galbraith is Macworld's lab director.]