In theory, Darts sounds like a great game for the iPhone. But as slick as the iPhone's touch screen and accelerometer are, you're not holding a Nintendo Wii Remote in your hand. So it's not too likely that the developers of the game would have you pseudo-tossing the device during gameplay.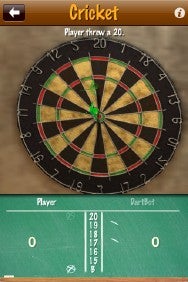 Indeed, they don't. To simulate tossing your dart, the developers of Darts decided you should — wait for it — flick your finger. Upwards.
And that's it.
After a few go-rounds in practice mode, you'll be throwing bullseyes and double bullseyes 9 times out of every 10. Sadly, though, you won't have any fun doing it. There's very limited appeal in swiping one's finger up, over and over again — even though the game's visuals are actually pretty good.
Darts offers a slick 3D view of your tossing. Game options are plentiful; you can choose to play "Cricket" or "X01," and the game explains both. X01 mode, in particular, offers several customizable options affecting how the game is played and scored. There are also several difficulty settings. And Darts smartly prompts you to continue interrupted games.
Unfortunately, the few good features in Darts can't compete with the bad: This game is simply repetitive and dull, and doesn't capture any of the fun of actual dart tossing.
Darts is compatible with any iPhone or iPod touch running the iPhone 2.1 software update.
[Lex Friedman usually scores a bullseye at his blog.]