At a Glance
Expert's Rating
Pros
Thin and light, well padded, with lifetime guarantee
Cons
So thin that internal pockets tend to snag items you're trying to slide in
Our Verdict
I've been using a laptop backpack from Brenthaven for years now. Not a series of backpacks—a single blue backpack. There's a photo of me standing on a lava flow on the Big Island with it in May of 2003, so it's been at least five and a half years, and it's probably been longer than that.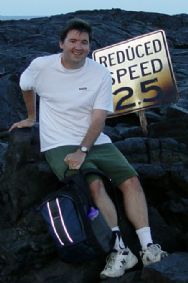 The thing's been beaten up and has begun to show some serious signs of wear, so I decided to try a new backpack. My desire to keep as much weight off my back as possible has been well documented; it's why I've generally tried to use the lightest laptop Apple makes. Currently that's the MacBook Air, but before that were a series of small laptops, including the MacBook, the 12-inch PowerBook G4, and the 12-inch iBook. So I decided to try a new backpack that's specifically designed to be small and light: Brenthaven's $90 MetroLite BP.
Available in red, black, and silver, the MetroLite BP is small and thin, weighing only 2.6 pounds on its own. Unlike my previous backpack, which offered three large compartments—a front compartment for loose stuff, a padded central section for my laptop, and an expansive rear area for whatever I might choose to carry, from soda cans to hardcover books to digital cameras—the MetroLite only has two. (Both bags offer the usual assortment of small zippered pockets for miscellaneous items, and the MetroLite also has a bottom panel that unzips in order to slide it onto the handle of a wheeled suitcase.) The Metrolite's padded space for the laptop is one half of the larger compartment; on the other side is space for other items, though they had better be thin if you have any hope of fitting them in.
Read more…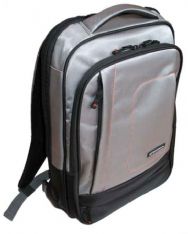 In terms of protection, the MetroLite BP seems solid. It's got a nylon exterior that seems to handle the rough and tumble world pretty well. The front compartment has plenty of pockets to stash stuff in, though once again, it better be thin or your backpack will show a noticeable bulge. Unfortunately, the MetroLite BP offers no side pockets to fit a water bottle, sippy cup, soda can, or (my personal favorite) mini umbrella.
There's just one glaring drawback: the pockets that line the interior compartment opposite the laptop sleeve itself tend to stick out and snag anything I'm trying to slide inside. Magazines, books, newspapers—you name it. In order to get most stuff down in there, I either need to slide it in between two items that are already in that compartment, or I have to stick my hand down to push the bag apart so that there's space for an item to slide in. I've never used those pockets, and I've been tempted on more than one occasion to get a pair of scissors and just snip them out.
In short: the MetroLite BP is a lot like my MacBook Air. (Though to be clear, it's not meant just for the Air—it works fine with the MacBook and MacBook Pro.) Like the Air, the MetroLite BP is thin and light almost to the point of inconvenience. There are a lot of trade-offs for a bag this thin. I wouldn't take it on a long trip. But for commuting, it hits the spot.
As for my old, worn backpack? It turns out that Brenthaven bags have a lifetime guarantee. I called Brenthaven, and the company offered to replace it with a comparable new model. When I demurred, the company instead took my old backpack and fixed the worn areas at no charge. So now I have a new bag and an old one. The old one gets the job when I need to haul plenty of stuff into the office on my back. The rest of the time, I travel light and use the MetroLite BP. Now where are my scissors? Those interior pockets have to go.