While iLife '09 brought many welcome improvements to the programs (well, except for iDVD) in Apple's digital lifestyle suite, it also brought one unwelcome change—the end of any sort of manual for the programs at all. In prior versions of iLife, each program included a Getting Started PDF that you could view via an entry in the Help menu. In iLife '09, that menu entry has vanished from every program in the suite, except for GarageBand.
What other bundled content, you may wonder, has taken the place of these Getting Started manuals? Lacking the detective skills of Inspector Clouseau or Agent 86, the best answer I've come up with so far is…"absolutely nothing." The Help menu contains entries for the help system, of course, as well as a keyboard shortcuts list and a "Welcome to" panel, but all of those existed in prior versions of the program. So as far as bundled (free) content, iLife '09 comes up short compared to its predecessors…and that's a shame.
While the previous Getting Started guides were far from top-to-bottom manuals for each program, they were well written and did a good job at getting you up to speed in a hurry. They were detailed enough to answer many questions a user may have, yet still easily readable and illustrated with numerous photos to clarify many operations. They ranged in length from 20 pages (iPhoto) to more than 100 (GarageBand), and were also relatively small—all five guides for iLife '08 take up just over 4MB on my disk.
So what options do you have—free or not—if you want more help with iLife '09? Well, there are the video tutorials, of course. These videos are very well done, but they're hardly a replacement for the Getting Started guides. Each video focuses on one or two aspects of a given program, walking you through that task from start to finish. If you want to learn one particular task, the videos are really useful, and generally easy to follow.
Read more…
I say "generally" because one of the limitations of video is that it's an all-or-nothing medium. That is, if you're watching the video, you really can't be following along in, for instance, iPhoto at the same time. To use the video, many people (myself included) end up doing a bit of a toggle operation—watch a bit of the video, pause it, switch to iPhoto, try what you just saw, then switch back and watch more of the video. Repeat until you've finished the lesson.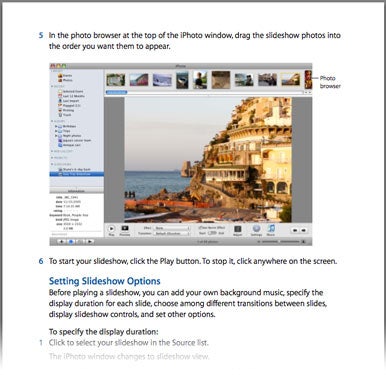 While this method works for many people, often I prefer to use a list of steps to learn, such as you would find in a typical PDF manual—for example, the page from the iPhoto '08 Getting Started guide seen at right. When viewing such a manual, I open the manual on one section of my screen, and iPhoto on another. I can then reference the manual while using iPhoto.
There are other downsides to videos. For one thing, they're large. I downloaded all 75 tutorials for iLife '09, and they take up 1GB of drive space. (For some help renaming all the videos after downloading, see this hint.)
Why download what's available online? To overcome another disadvantage of the video tutorials, namely that you have to be online to use them. Now that they're on my hard drive, I can move them to whatever Mac I wish, and use them even when I don't have an internet connection.
The other big problem with video is that Spotlight really can't do much with it, so searching is basically non-existent. Sure, Spotlight will index the title, and maybe some additional metadata, but you won't be able to search for that reference to creating an iPhone ring tone in GarageBand, or trimming title length in iMovie.
Instead, you'll need to fast-forward through the videos to discover that the answer to the first question is located at the 1:22 mark of the Creating an iPhone Ringtone video, and the second answer is at the 1:40 mark of the Adding Titles to your iMovie video. Not very much fun when you just want a fast answer to a question.
Now, to be fair, the answers to these questions are also in the Help system within each program, so you're not completely out in the cold. In general, though, I've found that Help's answers aren't as detailed as those found in the Getting Started guides. More problematic is that Help cannot be printed (neither can video, obviously), as can the Getting Started guides.
The other Apple-approved option for more help with iLife '09 comes in a form that will cost you money—once it's available, that is. Peachpit Press is producing Apple Training Series: iLife '09, the only Apple-certified book available for iLife '09. At $40, this book isn't inexpensive, but if it's like prior Apple Training Series titles, it will be thorough and well done. Note that it's not due out until April, however, so I'm not speaking from hands-on experience with the book.
The cynic in me might suggest that Apple dropped the Getting Started manuals in order to spur more sales of the Apple Training Series book…but really, the company wouldn't do that, would it?