At a Glance
Expert's Rating
Pros
Slick, easy user interface
Great route creation and editing
Supports many geographical data formats
Works with a wide range of GPS devices
Cons
Can't link waypoints or tracks to iPhoto events
Doesn't support finding the street addresses of points of interest or waypoints
Our Verdict
For most road-navigation situations, a standalone automotive GPS navigator is sufficient, but these devices fall short when it comes to trip planning, journaling, and post-trip analysis. Standalone GPS devices have little to offer your trip-planning effort, and while GPS navigators do allow you to collect points of interest (called waypoints) and notate your travel discoveries, that doesn't make them good tools for cataloging the awesome Greek restaurants you discovered in Detroit or the spectacular slopes you skied in Breckenridge.
RouteBuddy 2.3 fills those voids with a colorful, vector-based map display that's a breeze to scroll, zoom, notate, and search. RouteBuddy can also import tracks and points of interest that you've collected on your handheld or automotive GPS navigator.
RouteBuddy's main window employs the same layout style made popular by iTunes. The map is on the right, while map-browsing options appear above it and to its left. RouteBuddy also includes a built-in store for purchasing map content. North America, Europe, and parts of the Middle East and Asia are currently offered. These are road maps, not topographical ones. This makes RouteBuddy most useful during road trips, as opposed to hikes or bicycle journeys. An update, due out this spring, will add topographical maps, among other things, to RouteBuddy's features.
When adding waypoints to RouteBuddy's map, you have ample room for notes about the point of interest, as well as a place to put a URL. Unfortunately, RouteBuddy is unable to link a waypoint to an iPhoto ( ) item or event.
Searching
RouteBuddy's built-in search function is very fast and flexible. Given a radius and a keyword, the program will locate every matching landmark on the map. This would be ideal for searching through your own cataloged waypoints and tracks (records of where you've traveled), but the search function doesn't include user-generated items, just those included with the map. When search results appear on the map, you'll see each name, precise location, and category (museums or restaurants, for example) appear in the list of search results beneath the map. An automatic link to the Google Maps street address listings for these points of interest would be helpful, but RouteBuddy only provides a place for you to write notes and attach a URL about each.
Despite its limitations, the search function is an excellent trip-planning tool. Getting the distance between two points of interest, or two waypoints, is useful and easy. Deciding where to go while on your trip, and in what order, is very simple, given the unambiguous style of the map and its artful point of interest icons. If you need terrain or climate information, RouteBuddy provides buttons that send you to the Google Map or Google Earth view for the current map, and terrain data is just one click away once you get to Google.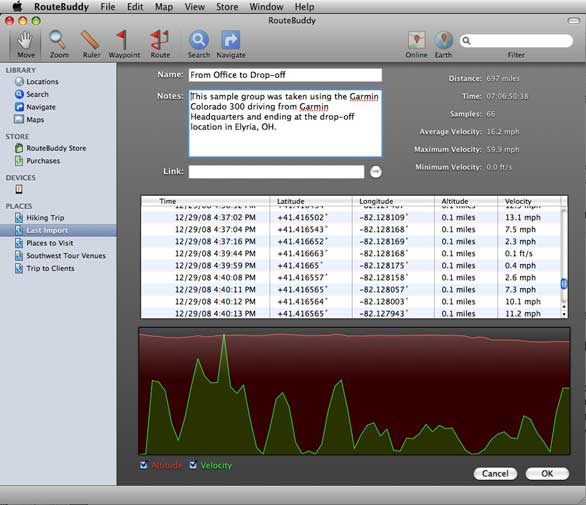 RouteBuddy's muscle really flexes when it comes to routes. Establishing, comparing, and adjusting routes are RouteBuddy's biggest strengths. If there are ten places you need to go, RouteBuddy will calculate an effective route to all of them. If you re-order the places or add a new one, the program instantly recalculates the entire route. If you'd like to take a more scenic heading, you can manipulate the route's line on the map by dragging it with the mouse or by adding a waypoint and inserting it into your route.
Different receivers
When a compatible GPS receiver or navigator is attached to your Mac's USB port, RouteBuddy can record your track. It's also possible to import tracks and waypoints that have been collected on the GPS. This way, when the trip is complete, you can show the deviations in your trip plan and examine the correlations between speed and the changes in altitude, latitude, and longitude.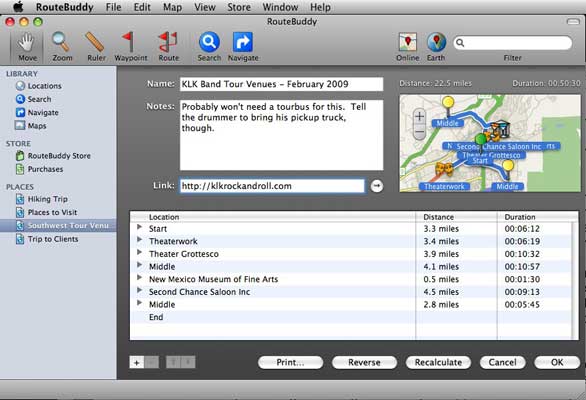 RouteBuddy can import and export routes and points of interest in several popular formats, so it's possible to share recorded tracks, routes, and waypoints with other users on geographical information services like Google Earth. It's also possible to use RouteBuddy's import/export features to convert the tracks, routes, and points from a TomTom receiver so that they can be used on a Garmin, and vice-versa.
For road guidance during the planning phase of a trip, it's tough to beat RouteBuddy. This program is sleek and snappy. Still, RouteBuddy comes up short in a few key areas. Serious hikers and explorers may prefer the detailed route-logging and waypoint file attachment features of MacGPS Pro ( ), while Garmin GPS owners are probably better off using the Garmin-specific RoadTrip ( ) software.
Macworld's buying advice
If you need a no-nonsense route-planning package with support for lots of GPS receivers, or a tool to easily convert GPS data between different formats, get RouteBuddy 2.3. But Garmin owners and travelers concerned with detailed track logging should also consider MacGPS Pro and RoadTrip.
[Ted Wallingford is the lead consultant and CEO of Best Technology Strategy in Cleveland, Ohio, and is the author of Switching to VoIP and VoIP Hacks, published by O'Reilly Media, 2005.]