At a Glance
Expert's Rating
Pros
Intuitive interface
Integrated outlining and character tools helpful for beginners
Built-in reference library provides story structure snapshots of 12 major films
Cons
Lacks many features available in competitor screenwriting software
Outlining tools and reference library materials too limited for advanced screenwriters
No support for production rewrite process
Our Verdict
Many people think that a screenplay begins when a writer types the words fade in on a blank page. But in reality, nearly every good screenplay starts with a solid outline. Movie Outline 3.0.5 aims to set itself apart from the screenwriting software pack— Final Draft ( ), Movie Magic Screenwriter ( ), and Montage ( )—by focusing on this vital pre-writing phase of the screenwriting process. The programs aims to help you build a strong structural foundation for the 120 pages of action and dialogue that will follow.
At the heart of Movie Outline's approach is an emphasis on steps rather than scenes as the building blocks of a story, which makes a lot of sense. Scenes tend to be tied to locations, and their boundaries are somewhat arbitrary. Steps are defined by what's happening. A single step—a hero searching for a lost set of keys, for example—can span multiple locations, indoor and outdoor, and hence multiple scenes.
Step by step
Movie Outline's step outline approach makes the daunting task of writing a film a lot less intimidating. Once you've used the Outline Panel to sketch out the roughly four dozen steps that make up your feature film, you can click on the Script Tab to focus on filling in the steps, writing your action and dialogue in bite-sized, two- or three-page chunks.
Installation and activation of Movie Outline was pain-free, and its interface proved clean, intuitive, and easy to navigate. Beyond explaining the program's features, the hard-copy manual provided a concise and helpful workflow recommendation for getting the most out of the software, beginning with the creation of extensive character backstories, using the interrogative Character Profile Wizard to breathe life into your heroes and villains.
One of the best ways to attack a new story is by analyzing and breaking down comparable successful films to see what makes them tick. Movie Outline incorporates an integrated reference library featuring step outlines and story analyses of 12 films, ranging from Die Hard to When Harry Met Sally. The program's PowerView feature lets you view a list of your screenplay's story steps alongside a structure key that identifies when vital turning points and plot reversals should occur in a traditional three-act screenplay or mythic structure.
For a screenwriter-in-training, these tools can provide valuable insight into the inner workings of story structure. But if you already have an MFA from NYU, a bookshelf full of screenwriting how-tos, or a list of credits on IMDB, odds are you're not going to find this limited library too useful.
In addition to structural issues, generic dialogue and poor pacing are often real problem areas for novice (and even some pro) screenwriters. Movie Outline comes to the rescue. The nifty Dialogue Spotlight feature allows the writer to display all the dialogue lines spoken by a given character, providing a quick way to double-check that your Christopher Walken-esque villain doesn't start to sound like your Al Pacino-style lead halfway through the second act.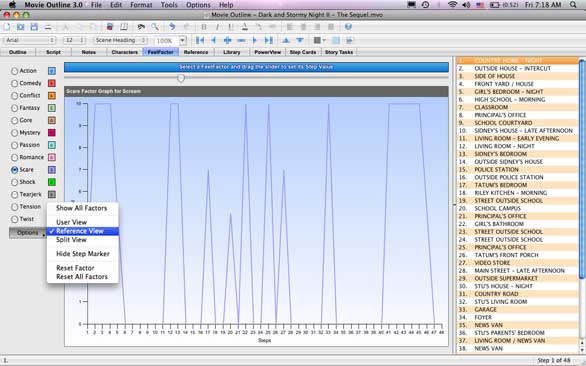 For evaluating pacing, the FeelFactor feature provides a mechanism for graphically representing the distribution of shocks, tears, laughs, and action throughout the screenplay. By using FeelFactor to compare their screenplays to similar films in the reference library, screenwriters see quickly if they need to insert additional action or breathing space.
Few pro-level tools
Once you complete your outline, you'll find that Movie Outline's script formatting toolset is adequate, but not impressive. It's missing useful features like dual dialogue, page count tweaking, script commenting, and collaboration capabilities. And though Movie Outline may help you transform your grain of an idea into a pearl of a script, it's not going to be much help handling the constant script rewrites that happen during actual film production.
Professionals who make their livings off rewrites will find industry-standard production rewrite tools like revision marks, A-B pages, and colored pages conspicuously absent. If you're lucky enough to sell that spec script and get hired on for the rewrites, plan on spending the first couple hundred dollars of that studio check upgrading to a more full-featured pro app like Final Draft or Movie Magic Screenwriter.
There are a few other quirks too. If you want to import an existing screenplay into Movie Outline, you must import it as a plain text file (rather than as an RTF file or a Final Draft or Movie Magic Screenwriter file). Though the program does an admirable interpretive job of reformatting your screenplay, plan on doing some cleanup yourself, and don't expect your page count to remain the same as it was before.
Also, while I understand the value of writing a script step-by-step, it was frustrating to be forced to review and edit my script solely in step-sized chunks. To look at your entire screenplay in Movie Outline, you need to generate a print preview, which you can view but not edit. Yes, there are workarounds. Once you have your outline and first draft in good shape, you can merge all your steps into a single step, which will enable you to view and tweak your script as a 120-page whole. Unfortunately, once you've gone down this road, most of Movie Outline's step-oriented tools are no longer usable.
Thankfully, Movie Outline's customer support was pleasant and seemed receptive to feature suggestions. Additional features, like an entire screenplay view, dual dialog support, and additional reference library titles, are planned for future releases.
Macworld's buying advice
If you're an aspiring screenwriter looking to get that first script under your belt, Movie Outline 3.0.5's focus on outlining and character work could help get your script off on the right foot, possibly saving you hundreds of pages of rewrites. But pros and amateurs well versed in story structure could quickly find the app's feature set too limited.
[Tim Haddock is a writer and corporate communications professional living in Vermont.]