Milog from SymplySoft helps you carefully track your mileage, whether you're a road warrior logging business miles driven for reimbursement or a soccer parent trying to figure our how many miles you've put on the family car driving the kids to and from games.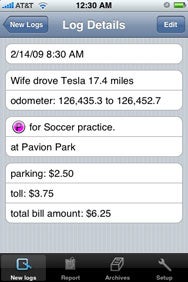 Upon launching, Milog always brings you to the New Logs splash screen which summarizes all your previously logged entries. Adding a new log loads the Log Editor, which enables you to enter trip data such as date, time, odometer start/end readings, and whether the trip is personal or business. Milog also gives you the option to track other potentially useful information—driver, vehicle driven, destination, purpose of trip, mileage reimbursement rate, and any fees incurred for parking or tolls. Nearly all these data fields are user-enabled; you can turn them on or off under the setup option if you don't find them applicable to your collective logs.
Read more…
The app calculates total distance traveled using Point A-to-Point B odometer readings entered via a numerical carousel. The app is designed with high-mileage vehicles in mind so you can track up to 999,999.9 miles—if your car manages to survive that long. Entering your odometer for each trip requires you to spin from seven carousels, including the fractional mile.
Since you cannot enter arbitrary miles driven other than from known start/end odometer readings, you will need to meticulously log your trip settings for Milog to determine your total distance. This can be a problem if you forget to properly log your odometer and later need to determine your total mileage from online maps. An estimate entered is better than nothing.
Note that there's a free lite version of Milog. But it only supports five logs in the database at the same time, meaning you'll have to delete older logs if you want to enter new ones. The $4 version doesn't have this restriction.
The app's report capabilities are the true surprise. While Milog doesn't let you directly export to Numbers or Excel, it does offer an excellent range of customizable parameters for you to create detailed reports of your travels—including total reimbursement amount with applicable parking and toll fees—via e-mail. From your e-mail you can then copy and paste the embedded tables into a word processor or spreadsheet. For some this will surely help ease the burden of filling out an expense report.
As solid as Milog is, the app could do more to put users in the driver's seat—namely by giving them the ability to manually enter distance driven rather than relying solely on odometer readings for distance calculations. But until that happens, remember to always note your odometer before and after your trip—or get used to estimating distances on MapQuest.
Milog is compatible with any iPhone or iPod touch running the iPhone 2.1 software update.
[George Sun is a freelance writer and mobile professional based in Irvine, Calif.]