Coladia announced on Wednesday plans to release Destination: Treasure Island for Mac OS X on February 24, 2009. It will be available online and through select retailers for $39.90.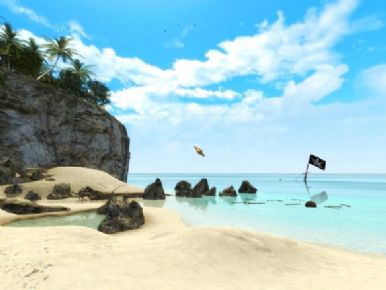 A point-and-click graphical adventure game in the same vein as Myst, Destination: Treasure Island is inspired by Robert Louis Stevenson's classic novel "Treasure Island."
The story is set four years after the events in the novel, where young Jim Hawkins is now an upstanding young man who one day sees Captain Flint, Long John Silver's faithful parrot companion, who brings a message — Long John Silver has buried his treasure on Emerald Island, where Long John has retired.
The game features an interactive inventory that relies on object combinations; a system of knot puzzles and photorealistic graphiccs and environments.
System requirements call for a G5 or Intel-based Mac running at 1.6GHz or faster, 512MB RAM, 2GB hard disk space and Mac OS X 10.4 or later.