JVC on Wednesday announced the GY-HM700, a new shoulder-supported compact camcorder aimed at video professionals. It's set to be released in March for $7,995, and the feature list includes native support for Final Cut Pro.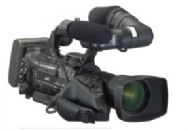 The GY-HM00 records directly to SDHC memory cards in QuickTime format for Final Cut Pro, and can also record on SxS media compatible with Sony's XDCAM EX format. JVC said this was done to help speed the post-production workflow, as footage can be ingested in its native format rather than having to be transcoded or rewrapped first.
The camera sports two SDHC-compatible memory card slots, suitable for up to 64GB of on-board storage — enough to record more than six hours of continuous HD footage, according to JVC. The camera automatically switches cards when one fills up (it will revert to the first card slot when the second is full, so you can record for as long as you need, given more SDHC cards).
The camera uses three 1/3rd-inch progressive scan full HD CCDs, a detachable HD lens made by Canon and a standard bayonet that can accept optional lenses from JVC. The camera encodes MPEG2 video at bit rates up to 35 megabits per second; all major HD signal formats are supported, including 1920 x 1080, 1440 x 1080 and 1280 x 720. It records uncompressed LPCM 16-bit audio at 48Khz.
Other features include a high-res viewfinder, 4.3-inch flip-out LCD monitor and balanced XLR inputs with phantom power if you want to hook up an external mic or wireless receiver. HD/SD SDI, component, composite and simultaneous DV/HDV FireWire outputs are provided.
[Updated at 2:59PM pacific to add price and ship date.]