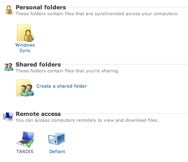 If you had any doubt that data synchronization was going to be a bigger deal in 2009 than, er, The Jonas Brothers (whom my teenage cousin assures me are, in fact, a big deal), well, then you haven't been paying attention. We've already seen sync solutions from Apple in the form of MobileMe, third parties like DropBox and Syncplicity, and even Google's jumped into the game.
So of course Microsoft had to throw its hat into the ring. Its new Live Sync service allows you to sync files between multiple computers as well as access files remotely on your other machines. You can create personal folders for your own use or shared folders that your friends can access too. Plus it works on both Macs and Windows machines, just in case you're stuck living in a bi-platform world.
I loaded up the software to give it a try and I have to say it worked pretty smoothly, which makes me a little nervous (I did run into one minor problem where I set up something to sync to the wrong folder—the web interface for setting up the syncing could use a little work). But still: that kind of ease is just not what I expected from Microsoft. There must be some sort of catch, right? Well, if there is, I can't find it so far.
Unlike DropBox and Syncplicity, your files don't appear to be stored on Microsoft's servers, so you can only access them if your computers are on—making Live Sync more like Back to My Mac than iDisk. That also means that the data sync limits are much higher: according to Microsoft's Ian Tien, you can sync 20 folders, each theoretically containing up to 20,000 files of up to 4GB in size, yielding a potential total of 1.6PB (or 1,600,000GB) of synced files.
So now I can sync gigabytes and gigabytes of content via multiple services, all via the good graces of the cloud. Well, until the cloud decides to go sentient and start killing us all, Skynet-style.