As online storage becomes cheaper and more ubiquitous by the day, more iPhone users are storing pictures, documents and other files "in the cloud." Since iPhone users always have Internet access on their phones, wouldn't it make sense to also have access to their stored documents, too?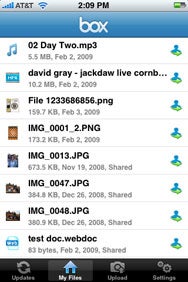 Box.net and its free iPhone application aim to bring your documents to you; but how well does Box.net work and is it useful to iPhone owners?
An online file-sharing and storage service, Box.net offers five different storage plans ranging from a free 1GB plan for consumers all the way up to a 15GB "Enterprise" plan that costs $15 per month. The free Box.net iPhone offering supports all plans. After you sign up for a Box.net account and download the iPhone app, you'll want to start loading files onto the Box.net servers.
To upload files to Box.net, you'll need to use the Box.net Web site. The iPhone app supports viewing all file types but only supports uploading photos at this time. Box.net on the iPhone and iPod touch supports most major file types, displays documents, and plays MP3s and MP4 videos in a horizontal window similar to the iPhone's YouTube app. While the program uses landscape mode for videos, it does not support viewing photos in landscape mode.
In addition to supporting uploaded documents, Box.net also supports documents created in the rudimentary word processor found on the Box.net Web site. While this may seem like a convenience, the Box.net iPhone app does not resize these documents for easy viewing in the same way it does for uploaded documents. This is a puzzling omission from an otherwise solid offering, although most users are likely to upload existing documents with formatting rather than create them on Box.net.
Box.net's iPhone client lets users of the online storage service easily access their files while on the go. It's a convenient option for iPhone and iPod touch owners with remote storage needs.
Box.net is compatible with any iPhone or iPod touch running the iPhone 2.x software update.
[Brendan Wilhide is a freelance technology writer and contributor to Macworld.com.]