At a Glance
Expert's Rating
Pros
Lets you purchase and share content
Good asset manager for maps, routes, and Voices
Cons
Changing Voices was glitchy
No real trip-planning functionality
Our Verdict
The TomTom Go 930 is an automotive GPS (global positioning system) navigator. With its voice prompts and LCD map display, this device helps you find your way while driving, offering interactive mapping and turn-by-turn directions. While most of the 930's features are found in other navigators, its distinct set of handy attributes—like iPod remote controls—may warrant a serious look.
Right out of the box, the Go 930 is loaded with road maps for the region in which it was intended for sale—North America for the version we tested. Also included are a mobile battery charger, a wireless remote control, mounting gear for your car, a CD with the TomTom Home 2.5.2 software, and a desktop dock for connecting the 930 to your Mac's USB port.
The TomTom Home 2.5 software allows you to manage the maps, media, POIs (points of interest), and map corrections loaded on your Go 930 unit, or any other TomTom GPS you buy (we used the Go 930 as a test unit for the software). The program, which you can also download from the company's Web site, also lets you purchase and share content, including custom voices (called NavTones in the program), which it will load onto your GPS via the included USB cable and dock. If you've recorded a route you're particularly fond of, you can use the software to help you share it with other TomTom users. And if you spot an error or obsolete item on a TomTom map, the program's MapShare features will let you submit a correction, which others can use.
As with most automotive GPS devices, the Go 930 can tell you how to get to a particular destination. You provide the starting and ending points; the GPS creates the routes. As you drive along the route, the GPS gives you visual and audible indicators to keep you on the right path. To prevent you from missing a turn, the 930 speaks when a turn is upcoming—far enough before the intersection that you don't drive past it. Of course, if you do miss a particular turn or exit, the Go 930 recalculates the route based on your current location and gets you back on track. Changing Voices sometimes resulted in garbled audio, but that was eliminated by restarting the device.
You can fully appreciate the usefulness of the product's voice navigation prompts when you enable the 930's Advanced Lane Guidance (ALG) feature: ALG tells you not only where to turn, but also the appropriate driving lane from which to make the turn, before you approach the intersection.
Unfortunately, TomTom GPS products don't include any real desktop trip-planning software, and TomTom Home 2.5 does not compete with such software. While it is possible to outline a trip plan using the GPS itself or by using the trip-planning features on TomTom's Web site, a more practical (and offline-friendly) approach would be to purchase RouteBuddy ($100), a third-party mapping package that works with a number of TomTom GPS units.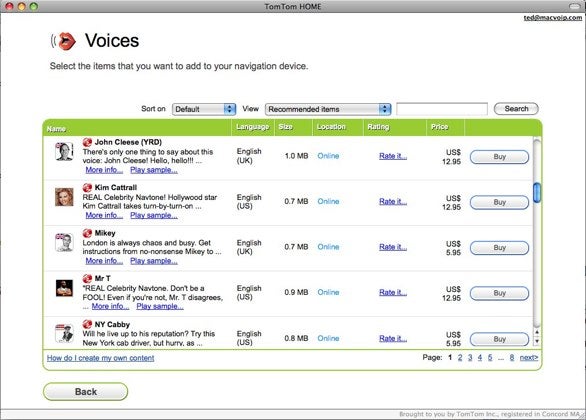 Where TomTom Home excels is in managing the vast assortment of content—Voices, maps, map corrections, routes, and points of interest—available via TomTom's Web site. This content is often user-generated, and with it, TomTom Home puts a useful social twist on GPS-aided navigation.
Macworld's buying advice
TomTom Home 2.5.2, free software which ships with the TomTom Go 930 and other TomTom GPS devices, ably manages your maps, media, landmarks, and Voices, and if that's all you need, you will be satisfied. However, if you want true trip planning, you'll have to look elsewhere.
[Ted Wallingford is the lead consultant and CEO of Best Technology Strategy in Cleveland, Ohio, and is the author of Switching to VoIP and VoIP Hacks, published by O'Reilly Media.]