For some of us, a Web browser is the center of the computing world; for others, it's a tool used only occasionally. If you usually find yourself needing information from the Web when you're in your e-mail client or your word processor, you might prefer to use a search tool you can access without opening a browser first. If that's the case, you've got quite a few choices.
Search from a Contextual Menu
If you're in, say, Apple's Mail or Preview and you encounter a term you'd like to look up on the Web, you can copy and paste it into your browser's search field. Alternatively, you can select the term and drag it to Safari's icon on the Dock to do a Google search. However, to save yourself a couple of steps, highlight the term, control-click (or right-click), and choose Search In Google from the contextual menu. (This doesn't work with all programs, but it's always worth a try.)
Try An Application Launcher
Application launchers such as Blacktree's free Quicksilver ( ), Objective Development's LaunchBar ( ; business license, €39 [approximately $49]; home license, €24 [approximately $30]), and Peter Maurer's Butler ( ; payment requested) make it easy to use keyboard shortcuts to run applications, play music, perform calculations, and do lots of other things. Furthermore, they all let you search the Web regardless of the program you're currently using.
For example, to use LaunchBar from anywhere, press control-spacebar (or another key combination you specify) to activate the program and then type the first few letters of your favorite search engine (such as goo for Google). When the name of the search engine appears with the option Search Template next to it, press the spacebar again, type in a search term, and then press return. Your default browser will come to the fore with your search results loaded. Sound like a lot of steps? Since there's no need to reach for the mouse, most people can generate this series of keystrokes in less than a second.
Explore Other Alternatives
Ambrosia Software's $15 iSeek ( ) puts a Web search field right in your menu bar. It's set to Google by default, but you can adjust it to use the engine of your choice. Type your search term in this field and press return to display the results in your default Web browser. Waffle Software's Monocle (payment requested) is similar (though with fewer search options), but instead of putting the search field directly in the menu bar, it requires that you click on a menu-bar icon to display a pop-up field.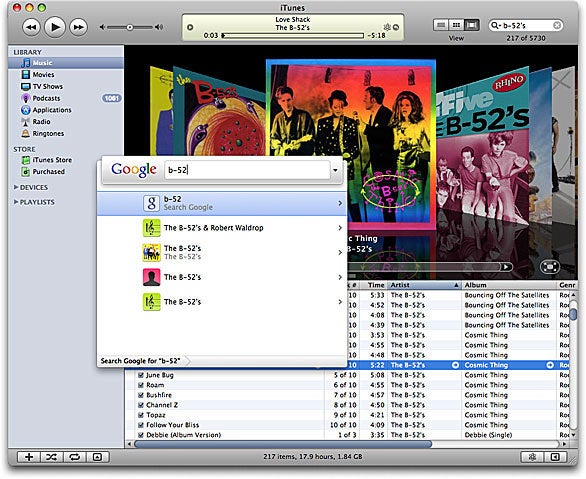 The free Google Quick Search Box for the Mac—still considered "experimental," because it's only a demonstration of a work in progress—also displays a pop-up search box when you press a keyboard shortcut. The Google Quick Search Box can search not only Google sites (including YouTube and Google Docs), but also Wikipedia.com and even programs, files, Address Book contacts, bookmarks, and other data on your Mac.
[Senior Contributor Joe Kissell is the senior editor of TidBits and the author of numerous e-books about OS X.]