Speakal — maker of the novelty iPod speaker systems the iPig and iPanda — has released the iBoo. It's a new iPod speaker system that looks like a ghost. The iBoo is priced at $89.99.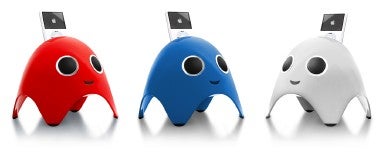 Available in red, white or blue, the iBoo sports two speakers in its "eyes" with a downward-firing subwoofer hidden below — together the system outputs 15 watts.
The smiley face below the eyes acts as a sensor for receiving commands from an included remote control. The remote offers audio controls and iPod menu controls.
The iBoo rests on four feet which are rubberized to prevent rattling when the subwoofer is on. The iBoo also sports "human touch" volume control.
An iPod dock is built in, and it includes various cradles to fit different sizes of iPod. A 3.5mm input jack lets you connect other portable devices, laptop computers and more.