Submersible Music said the latest version of its drum sampling application, DrumCore will be available in the second quarter of 2009.
DrumCore 3 comes with many changes including twice as much content and it will now be a plug-in, allowing easier integration with a digital audio workstation (DAW) like Pro Tools or Logic. In previous versions DrumCore was a standalone application that could be used as a ReWire client in your DAW.
Other changes in version 3 include a new user interface the company says will make it easier to search and audition grooves. The grooves, variations and fills will be arranged into GrooveSets for faster access.
Searches on the content can be done on the drummers, musical styles and "Feel" criteria (like shuffle, swing, 1/8th, 1/16th).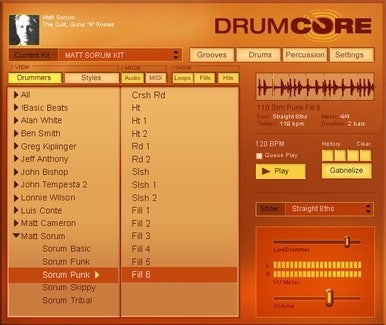 The company added the DrumCore Toolkit, which allows users to import WAV, ACID and AIFF loop libraries as well as for building drumkits using any WAV or AIFF files.
DrumCore features grooves and kits by Ben Smith (Heart), John Bishop (Ernie Watts), Terry Bozzio (Jeff Beck, Frank Zappa). Matt Sorum (Velvet Revolver), Tony Braunagel (Bonnie Raitt), Ned Douglas (Dave Stewart,), Sly Dunbar (Bob Marley), Michael Shrieve (Santana), Alan White (John Lennon, Yes), among others. You can also expand your library using DrummerPacks available from Submersible.
DrumCore 3 will be available for $199 in the second quarter of 2009. An upgrade will be available to all DrumCore customers for $50.