Redcort Software on Thursday announced the release of Virtual TimeClock '09, an upgrade to its time and attendance software for Mac OS X. It costs $195; upgrades are available for users of previous versions.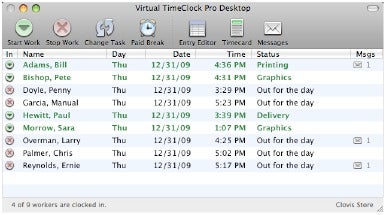 Virtual TimeClock was developed to act as an employee time tracking system. It provides an in/out board showing each worker's status, features reporting tools that let you total and print employee time and attendance, and supports networked computers.
New features in Virtual TimeClock '09 include unlimited overtime and deduction rules, customizable new leave categories, dozens of new reporting options, and a new administrative interface. New TimeClock Server and Server Manager applications have been designed to be easier to manage, as well.