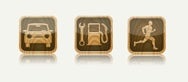 A couple of weeks ago, iPhone developer App Cubby decided to try a little experiment. It would lower the price of its three apps—Trip Cubby, Gas Cubby, and Health Cubby—(which previously sold for a few dollars each) to 99 cents for a limited time to see what effect it would have on sales. At the same time, it would invite its users to donate more money to the company if they felt that the apps were useful.
App Cubby's David Barnard recently wrote a blog post detailing the results of the experiment:
During the 7 days of the experiment, we received $75 in donations, and sales volume shot up enough to make the 7 day experiment essentially revenue neutral compared to the prior 7 days. During the first few days of the sale I was starting to think the $0.99 price point might actually be sustainable given the increase in volume.
However, Barnard notes, a lot of the initial sales spike was prompted by press coverage of the experiment, and sales began to level off as the news cycle moved on. The upshot? Unless your app is the "next big thing"—and obviously not every app, even the good ones, can be the next big thing—99 cents isn't a sustainable price point for developers who hope to earn a living just making iPhone applications.
The solution, for App Cubby, is to embrace its applications' niche status and charge what it believes the applications are worth: in this case, $10 apiece. The company will also be releasing "lite" versions of its apps so users can try before they buy and aggressively implementing substantial new features for its users. Or, in other words, focusing on competing not in terms of price but in terms of value.