The social news site Reddit.com is designed, in its own words, for accessing "what's new and popular on the Web." I find it particularly ideal for providing surfing material for when I'm stuck at the airport or in line at the DMV and need to kill some time.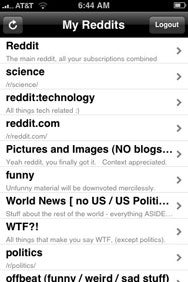 Given the big bucks behind Reddit.com —it's owned by Wired, which is owned by Conde Nast—you would think that the Reddit gang would whip together an iPhone app. Right? Wrong. The long-rumored iReddit app has yet to be released as of this writing.
That's where Satellite from 3Cube Technologies steps in. It is a dedicated app for accessing and commenting on Reddit stories. Since you could easily access Reddit.com via Mobile Safari, the value in Satellite comes from how it present the stories. Reddit stories appear in an easy-to-navigate interface that takes advantage of the iPhone's screen real estate.
On the surface, Satellite does the job well enough. The app allows you to access reddit.com stories and use your own reddit.com account. You can easily get to the stories and comment on them (an important part of reddit for some). But ultimately, it is hard to declare Satellite an unqualified success. For one, it's not very stable—it crashed multiple times during a week of moderate use. What's more, it's hard to justify paying for content that's otherwise free, even if it's delivered in a pretty interface.
Satellite is compatible with any iPhone or iPod touch running the iPhone 2.1 software update.
[Jeffrey Hatton is a freelance writer living in Virginia.]