At a Glance
Expert's Rating
Pros
Affordable ink
High-quality text and color prints
Cons
Slow monochrome printing
Low-capacity paper tray
Our Verdict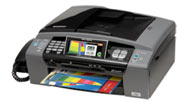 Brother's MFC-790CW is a multifunction color ink-jet device that can scan, print, copy, and fax. Equipped with a flatbed scanner, an automatic document feeder for copying and scanning, a (smallish) 50-sheet printer tray, a built-in answering machine, and a telephone headset, the MFC-790CW is ideal for the home-office setting.
The compact MFC-790CW is black and gray, and equipped with a 4.2-inch LCD touch screen. From the screen, you can control most of the unit's functions, including copying, faxing, scanning, managing photos, and troubleshooting. The MFC-790CW comes equipped with three memory card slots for photos. A built-in 4-by-6-inch photo paper tray is situated above the standard paper tray for easy photo printing.
The USB port is beneath the flatbed scanner tray, making the first connection of the USB cord inconvenient. Afterwards, the cord is neatly tucked away, but I did find the initial cable installation odd.
Setting up the wireless connection for printing and scanning was a clunky process. In order to set up the connection to a password-protected Wi-Fi connection, the user must type in the alphanumeric password on the touch screen, which isn't an easy task. Once the MFC-790CW is connected, however, we were happy to see that scanning over a network worked well—a task other printers have struggled to complete.
We also tested the printer's ability to edit photos that have been saved to a memory card. Through the use of the touch screen, we were able to remove red eye, autocorrect, convert to sepia, and edit the image in several other ways. The controls weren't exactly intuitive, as it wasn't easy to return to the main editing menu once you'd selected an editing feature. But the image was easily editable and could be printed directly from the printer without the use of a computer—a useful feature for fans of direct camera printing.
The standard paper tray is underneath the printer and holds only 50 pages. You'll have to constantly feed the printer new paper for larger projects—no easy task, because you must remove the entire tray in order to change paper types or feed the machine more paper. We also found the printer to be susceptible to paper jams in our testing, and the automatic document feeder on the top of the printer is only for copying and scanning.
Brother says that the MFC-790CW can print 18 pages of black text in under a minute. Our results were more pedestrian. Our 10-page Word test, at the default printer settings, took 3 minutes and 28 seconds. That's not only much slower than the advertised times, but comparatively slower than most competing multifunction printers. We did find that the times became much faster when we set the printer to Grayscale and to a Fast setting, but this greatly reduced the quality of the text. While the standard text received a Very Good rating in our jury evaluation, the document produced at the Fast setting received only a Fair rating.
The color printing speed and quality was more impressive. It took the MFC-790CW 1 minute and 42 seconds to produce our four-page PDF document, and a little over 50 seconds to finish our 22MB Photoshop photo. The prints were of Very Good quality, with only minor details lost in the shadows.
The scans were also judged to be of Very Good quality, with exceptional clarity. Unfortunately, the MFC-790CW struggled when it came to the quality of its copies; our judges awarded the prints a Good rating, noting visible horizontal lines in the copy and a dark image that detracted from the overall picture.
Installing and replacing the ink-jet cartridges is simple, and replacement cartridges can be purchased from Brother directly; it'll cost you $25 per black ink cartridge and $10 per colored ink (yellow, cyan, or magenta) cartridge. Replacing all of your ink cartridges will cost you $55, and a fresh batch can be used to print up to 450 pages. At $0.12 a page, the MFC-790CW is also a comparatively cheap ink-jet printer to maintain.
Timed trials: print
| | |
| --- | --- |
| 10-page Word test | 3:28 |
| 1-page Word test | 0:21 |
| 22MB Photoshop image | 0:52 |
| 4-page PDF | 1:42 |
Scale = minutes:seconds
Timed trials: scan
| | |
| --- | --- |
| 8-by-10-inch photo, 600 dpi scan | 0:38 |
| 4-by-6-inch photo, 1,200 dpi scan | 1:15 |
Scale = minutes:seconds
Jury tests: print
| | |
| --- | --- |
| Graphics: Fine lines and gradients | Very Good |
| 22MB Photoshop image quality | Very Good |
| Text quality | Very Good |
Scale = Superior, Very Good, Good, Fair, Poor
Jury tests: scan
| | |
| --- | --- |
| Color | Very Good |
| Clarity | Very Good |
| Copy | Good |
Scale = Superior, Very Good, Good, Fair, Poor
Specifications
| | |
| --- | --- |
| Print resolution | 600 x 1,200 dpi |
| Scan resolution: Optical | 1,200 x 2,400 dpi |
| Max. scanning bit depth | 36-bit |
| Connection | USB 2.0;10/100 Ethernet; 802.11b/g |
| Paper sizes | 3.9″ x 5.8″, 8.5″ x 11″, 8.5″ x 14″, 5.8″ x 5.8″ |
| Cost to replace ink | $25 for black, $10 each for cyan, magenta, or yellow |
| Weight (in pounds) | 18.5 |
| Dimensions (height x depth x width, in inches) | 18.1 x 14.8 x 7.1 |
| Paper capacity | 50 sheets |
| Special features | Answering machine |
Macworld's buying advice
Brother's MFC-790CW is a solid multifunction device for the home office. The versatility of having faxing, wireless printing, scanning, copying, and a built-in answering machine makes the machine highly desirable for home businesses, especially those working on a budget. On the one hand, its black text printing tests were slower overall compared to competing printers, which may give businesses that require quick printing pause before purchasing the MFC-790CW. But businesses that need to print color documents like manuals and guidebooks will enjoy the relative speed and affordability of the MFC-790CW.
[Chris Holt is an assistant editor for Macworld.]