Depending on your cinematic taste, Tom Cruise's 1990 stock car racing film Days of Thunder may linger in your memory like the taste of a fine wine…or perhaps like the smell from that leaky milk bottle that your child dropped down between the seats of your car that you then didn't find for a couple of months. Regardless of your memories of the movie, Freeverse and Paramount have teamed up to make an all-around exciting game for the iPhone and iPod touch.
In Days of Thunder, you step into Cole Trickle's shoes, trying to earn your way up to the top rung of stock car racing. You begin on the Amateur circuit, and as you win races and earn high finishes, you progress up through the Qualifying, Semi-Pro, Pro, Super Circuit, and Endurance circuits. On each circuit, the opponents get tougher and the races get longer.
As you progress through your career, you unlock tracks and cars, earning special achievements for things such as completing a race without pitting or by causing a marked rival to explode in flames. In all, there are 14 cars to be won, and 39 races to compete in, spread across 12 unique tracks. I'll admit to not yet having mastered all the circuits—in fact, after way too much "research," I'm just now reaching the Pro level. But that's a good thing, as the game is quite entertaining.
Read more…
Just like the movie, very little of Days of Thunder is realistic. Also just like the movie, that lack of realism doesn't necessarily mean a lack of fun. In fact, far from it—Days of Thunder is one of the most fun games I've played on my iPhone in quite a while. The action is fast and furious, the sound effects are good and not too annoying, and the soundtrack is even bearable.
The interface is quite simple—gas on the right, brake on the left, and occasionally, a button above each of those. Steering is accomplished by tilting your iPhone from side to side, and the developers got the sensitivity just right—it doesn't take too much motion to turn, but every little twitch won't send you into the wall.
There are two main racing tactics to use in Days of Thunder. The first is the smooth, professional style—you move up slowly behind a line of traffic and draft off the cars in front of you. As you draft, a meter slowly builds onscreen; when it maxes out, a hammer icon appears. Tap the hammer, and you get a sudden burst of speed you can use to pull out of the draft and pass the traffic. That's how a pro would do it.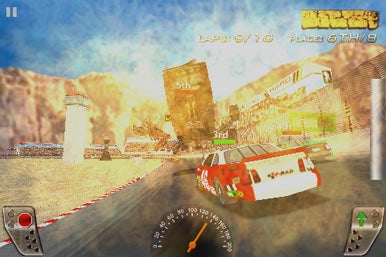 The other way—the fun way, I might say—to play is the "smash and crash" style of racing. Instead of drafting, you basically play bumper cars at 180 mph as you make your way around the track.
Each car has a health meter, yours included, and as you bump into other vehicles, the meters on both vehicles decrease. When an opponent car's health reaches zero, it explodes up and away from the track in a huge burning fireball, landing with a satisfying crash, leaving a burned-out hulk on the pavement.
Thankfully, the Days of Thunder safety teams and pit crews are some of the best in the business, as your competitor is soon back on the track, in a shiny pristine car, once again trading paint with you. Oh, how the Nascar teams wish it were that easy!
So what happens when your car's health meter reaches zero? You come to a complete stop in the middle of the track for a five-second delay. You're then replenished with a minimum amount of health, and can start racing again. This penalty is painful when you're trying to win a race, so it needs to be avoided at all costs. To replenish your health without suffering the five-second pause, you need to tap a Pit button that appears when you pass your pits each lap.
Once in the pits, you'll see two meters—one indicates your track position, the other your car's health. It's up to you as to how long you sit in the pits; the longer you stay, the more health you get, but the worse your track position will be when you emerge.
I only noticed a few small annoyances with Days of Thunder. The first is that load times can be a bit slow, which isn't surprising as this isn't a small program. I also noticed some frame rate drops when I received a mail message in the background; these only lasted for a few seconds, but were quite noticeable. Finally, the game makes your opponents behave in odd ways to keep things interesting. Your car can go zooming past someone without any trouble, but within a couple seconds—even if you don't slow down—they'll be right up on your bumper, banging away. Unrealistic, indeed—but then again, it helps keep the game fun, so I eventually stopped paying attention to the behavior.
All in all, Days of Thunder is a hoot to play. The graphics are quite good, the sound effects are well done, and the game play is entertaining. If you like auto racing games, Days of Thunder is worth the cost of admission—whether that's at its current $1 special price (an amazing bargain), or even at its usual $5 price tag.
Days of Thunder is compatible with any iPhone or iPod touch running the iPhone 2.2 software update.
[Senior editor Rob Griffiths is waiting for an iPhone game version of Far and Away, so long as we're mining old Tom Cruise movies for game ideas.]