If you combine a cool guitar app for the iPhone with the ability to play Ozzy Osbourne, you'll get my attention. Frontier Design did that with the latest release of iShred, an app that let's users play guitar on their iPhone or iPod touch.
iShred does a few steps further than just allowing you to play guitar on your iPhone. They actually route the guitar through effects pedals and amp simulators to give you a believable sound.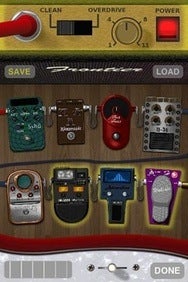 Included effects in the app are a Treble Booster, Delay, Fuzz, Compressor, Modulation, Chorus, Tremolo, and a Wah. Making things even more interesting, you tilt your phone back and forth to activate the Wah while your playing. That is a nice touch. You can use up to four effects per song.
The app comes with over 2,000 chords, scales and fret positions, according to the developer. To play a song, you assign a chord to one of the top buttons, tap and hold the button and then strum the strings.
You can even add some vibrato to your playing by pulling down on the string.
iShred also comes with a recorder, so you can document your latest killer performance and play it back for your friends.
iShred costs $4.99 and is compatible with the iPhone and iPod touch running software 2.0 or later. It's available from the App Store.