QNAP Systems on Friday announced the TS-809, an eight-bay Network Attached Storage (NAS) system. It's compatible with Mac OS X, Windows and Linux clients.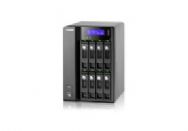 Based around an Intel Core 2 Duo microprocessor operating at 2.4GHz and equipped with 2GB of DDR2 memory, the NAS system connects to a network using dual Gigabit Ethernet connections. It also supports iSCSI target service, and can operate as a NAS and iSCSI target at the same time. You can add up to eight iSCSI devices, and you can define different Logical Unit Numbers (LUNs) for storage expansion or backup destinations.
The TS-809 supports RAID 0, 1, 5, 6, 5+Spare and Just a Bunch of Disk (JBOD) configurations. It also supports Online RAID Capacity Expansion and Online RAID Level Migration.
Software on the TS-809 includes file server, FTP server, DDNS, Web server with built-in phpMyAdmin, Joolma, MySQL and SQLite, and a "Surveillance Station" feature which allows you to manage monitoring and video playback from up to four IP-based cameras. A printer server and XDove-based e-mail server are also included.